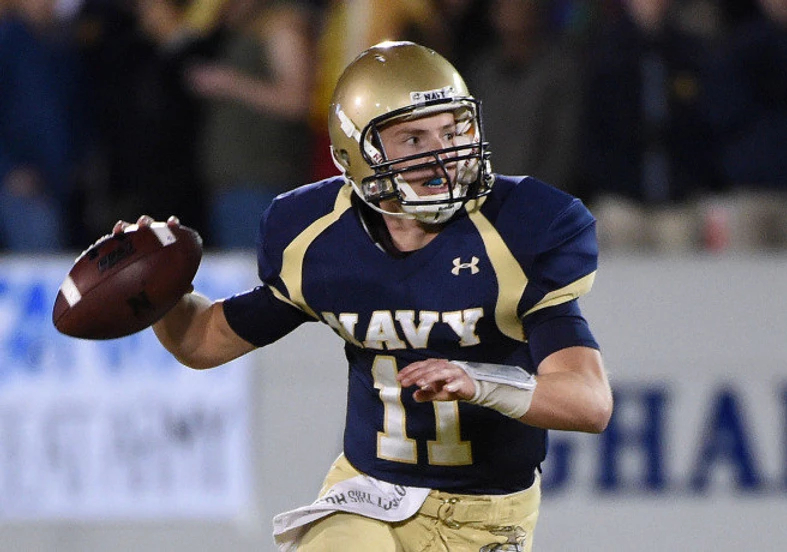 Navy snaps Army streak to win title
By: CSFL Staff | Collegiate Sprint Football League | November 2, 2015
ANNAPOLIS - The Navy sprint football team claimed its first CSFL title and undefeated season since 2011, snapping Army's 20-game winning streak in the process, with a 27-7 victory over the Black Knights Friday night in the league title game.
Army had won 20 games in a row and had not lost since the 2011 title game, but Friday night was all about the Midshipmen as Navy opened up a 13-0 halftime lead and never looked back.
Navy finished the game with a 388-217 advantage in total yards after rushing for 195 yards and passing for 193. Army was held to just 78 yards rushing and threw for 139 yards. The Midshipmen defense forced three Army turnovers, an interception and two fumbles, while the Army defense came up with just one takeaway, an interception.
Eric Wellmon capped his incredible season by breaking the Navy single-season rushing record with 131 yards on 36 carries. He finishes the year with an incredible 1,269 rushing yards and 17 touchdowns, running away with the league rushing title.
While much of the focus for Army was on stopping Wellmon, Navy won the game by scoring all its points through the air. Quarterback Joe Hampton threw four touchdowns, finishing the game 15-of-26 for 193 yards with one interception. Colin Butler caught eight passes for 87 yards and two touchdowns, while Corey Garcia grabbed two passes for 48 yards and one touchdown and Matthew Hite caught two passes for 21 yards and one touchdown.
Army quarterback J.J. Wartski completed 16-of-31 passes for 139 yards and one interception. Jesse Shackelford ran for 61 yards on 13 carries and Marqus Burrell ran for 29 yards and one touchdown on 12 carries. Kevin O'Brien caught three passes for 36 yards and Danny Hokanson caught four passes for 35 yards.
Keegan Kush led the Navy defense with 10 total tackles and one sack. Chris Mershon added eight tackles and two sacks, along with one forced fumble. Kendall Mackey added six tackles, two fumble recoveries and one interception to account for all three turnovers.
Army's defense was paced by David Brown with 11 tackles and one sack, while Ryan Gallagher also added 11 tackles. Taylor Ragland recorded one interception.
----------
Week 7 CSFL Players of the Week
Offensive Player of the Week: Joe Hampton, QB, Navy (Charleston, S.C.)
The senior quarterback led Navy to a spirited 27-7 victory over Army for the Star and CSFL Championship on Friday night. The co-captain highlighted Navy's offensive effort with a career-high four touchdown passes and 193 yards through the air. His touchdown passes accounted for all of the Mids' scores … The Star and CSFL Championship were the first for Navy since 2011.
Defensive Player of the Week: Chris Mershon, DE, Navy (Lee's Summit, Mo.)
The senior defensive end was an important factor in Navy's 27-7 victory over Army on Friday night. Mershon recorded eight tackles, two sacks and forced one fumble. His forced fumble occurred in the red zone as Army was threatening to score midway through the first quarter. With two sacks on Friday, Mershon broke the single-season mark at Navy for most sacks with 10. He also increased his program-record with 29 over his four-year career.
Special Teams Player of the Week: Michael Zazzara, PK, Cornell (Manlius, N.Y.)
Zazzara was perfect on his attempts in the 38-21 win over Mansfield, connecting on a 38-yard field goal and four point after tries to account for seven points in the win.
----------
OTHER CSFL WEEK 7 ACTION
Mansfield (21) at Cornell (38)
Mansfield scored first but Cornell answered with a 31-0 run to pull away for a 38-21 win over Mansfield in the seasin finale for both teams.
Cornell finished the game with a 458-290 advantage in total yards after running for 298 and throwing for 160. Mansfield was held to just 38 yards on the ground and passed for 290.
Rob Pannullo led Cornell with 129 yards rushing and two touchdowns on 20 carries while also throwing for 137 yards and one TD. Benjamin Herrera added 80 yards and one touchdown on the ground. Rob Hendricks caught three passes for 43 yards and one touchdown.
Mansfield was led by Mike Maniscalco, who completed 21 passes for 252 yards and three touchdowns, but was intercepted twice. Eddie Larcom caught nine passes for 150 yards and two touchdowns and Kurt Logan added eight catches for 83 yards and one score.
Cornell finishes the year at 3-4, while Mansfield finishes the season at 1-6.
----------
Franklin Pierce (17) at Post (10), Overtime
Franklin Pierce scored a touchdown in the second overtime and was able to keep Post off the board in both overtime sessions to earn a 17-10 win in the closest game of week seven. The Ravens got the touchdown when Taylor DeForge, in the game as a backup quarterback, led a 12-play 76 yard drive to tie the game in regulation and then hit Shawn DeCost for the winner in the second overtime.
Neither team could muster much offensively, with Franklin Pierce earning a slight 210-196 edge in total offense after throwing for 110 yards and running for 100. Post threw for 149 and rushed for 47.
DeForge completed nine passes for 94 yards and one touchdown with two interceptions.
Greg Volpe completed 11 passes for 149 yards and one touchdown for Post.
Franklin Pierce finishes the season at 3-4, while Post drops to 3-3 with one game to play, a makeup against Princeton.
----------
Penn Wins by Forfeit at Princeton
Princeton forfeited its home game against Penn to drop to 0-6 in league action, while Penn finishes its year at 4-3 and in third place in the league standings. Princeton is scheduled to host Post in a makeup game Nov. 7 to close out the year.
All-CSFL Teams
The All-Conference teams will be selected by the head coaches of the league and announced following the annual meeting in December. The announcement will be made here on the CSFL website and will also be posted to Facebook.