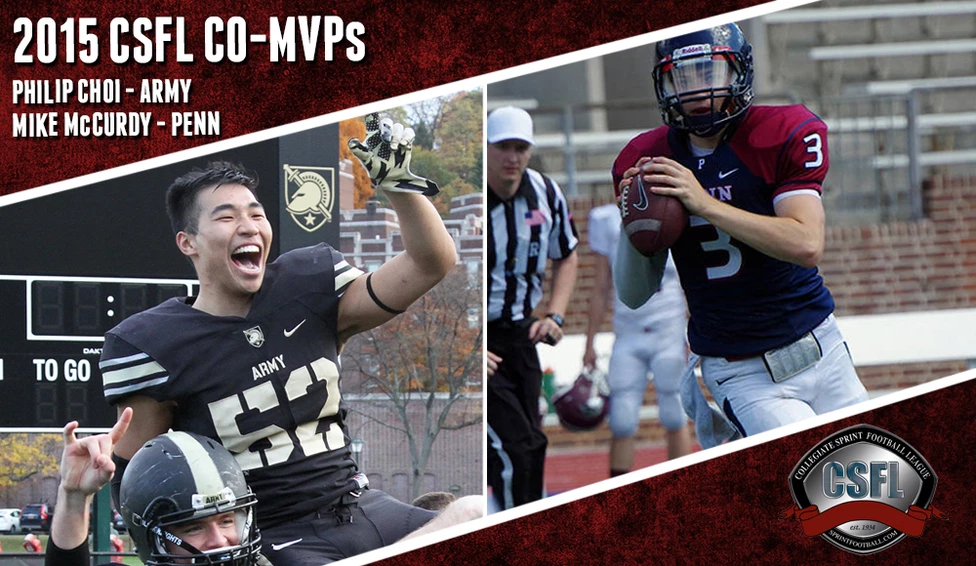 CSFL Postseason Honors
By: CSFL Staff | Collegiate Sprint Football League | December 1, 2015
Army West Point defensive lineman Philip Choi and Penn quarterback Mike McCurdy were named co-Most Valuable Players for the 2015 Collegiate Sprint Football League when the annual All-Conference honors were announced Dec. 1.
The All-CSFL teams, linked above and listed below, are voted on by the league's head coaches. This year's coaches voted Choi and McCurdy to a tie for the top honor in the league after both had outstanding seasons on opposite sides of the ball.
Choi led the league's best defense with 11.5 sacks and 15.0 tackles for loss. He finished with 37 total tackles, one fumble recovery and one blocked kick to help Army West Point to an undefeated season in which the defense allowed only 36 points in seven games.
McCurdy finished the year with the most passing and total offensive yards in the league. He completed a league-high 54 percent of his passes for 1,513 yards with 13 touchdowns. The next highest passing total in the league was 1,146. McCurdy also rushed for 107 yards and seven touchdowns and finished the year averaging 231.4 yards of total offense per game. He helped Penn to an average of 33.1 points per game.
Seven schools had at least one player named to first team honors, while all nine schools are represented on the All-CSFL team. Because Chestnut Hill was playing in its inaugural year, all players selected were named to Honorable Mention honors.
FIRST TEAM OFFENSE
QB Mike McCurdy Penn
RB Marqus Burrell Army West Point
RB Aren Harris Mansfield
RB Max Jones Penn
WR Matthew Hite Navy
WR Henry Mason Penn
WR Jay'Len Mahan Post
TE Joe Bucek Mansfield
OL Lucas Fazzari Army West Point
OL Dan Alexander Cornell
OL Franco Pizzarella Franklin Pierce
OL Donnie Kneisel Penn
OL Anthony Lucia Post
PK Warren Kay Army West Point
KR Jay'Len Mahan Post
PR Richard Robinson Mansfield
SECOND TEAM OFFENSE
QB Nick Deterding Navy
RB Kevin Nathanson Cornell
RB Ben Herrera Cornell
RB Eric Wellmon Navy
WR Austin Breed Army West Point
WR Kevin O'Brien Army West Point
WR Trevor Marrero Cornell
WR Tyler Kaye Princeton
TE Michael Holdridge Franklin Pierce
OL Kenny McClain Army West Point
OL Caleb Minsky Cornell
OL Christopher Bogardus Franklin Pierce
OL Steven Sicilia Mansfield
OL Ross Gilchrest Navy
OL Mark Nowicki Princeton
PK Kyle Salucco Franklin Pierce
KR Richard Robinson Mansfield
PR Corey Garcia Navy
HONORABLE MENTION OFFENSE
QB Rob Pannullo Cornell
QB Chad Cowden Princeton
RB Dasantae Callis Chestnut Hill
TE Ty Galyean Army West Point
TE Rocco Guerrera Post
WR Raevon Floyd Bennett Chestnut Hill
WR Domoree Hill Chestnut Hill
OL Kevin Meredith Chestnut Hill
OL Kevin Clancy Chestnut Hill
PK Brett Deters Navy
KR/PR Dan Gilmore Navy
PR Jack Barnett Army West Point
FIRST TEAM DEFENSE
DB Tanner Andrews Army West Point
DB Brandon Knight Franklin Pierce
DB Kyle Post Mansfield
DB Kendall Mackey Navy
DB Stu Helgeson Penn
LB Matthew Tamburri Army West Point
LB Collin Ascherl Navy
LB James Juliano Penn
LB Chris Leggio Post
DL Philip Choi Army West Point
DL Evan Zittel Cornell
DL Josh Tilton Franklin Pierce
DL Alex Nicholas Mansfield
DL Hardy Davis Navy
DL Derek Shnider Penn
P Mark Dabeck Army West Point
P Derek Reddy Franklin Pierce
SECOND TEAM DEFENSE
DB Jack Barnett Army West Point
DB Ryan Jackson Cornell
DB Richard Robinson Mansfield
DB Rob D'Orio Penn
DB Eleodoro Perez Post
DB Nick Barnett Princeton
LB Chris D'Ambrosio Cornell
LB James Willette Franklin Pierce
LB Josh Castro Franklin Pierce
LB Spencer Underdown Mansfield
DL Arran Rounds Army West Point
DL Evan Ruggles Mansfield
DL Sam Smallzman Penn
DL Marcus Jones Penn
P Sean Green Mansfield
P Jules Murphy Navy
HONORABLE MENTION DEFENSE
DB Rene Diaz Cornell
DB Karon Hair Franklin Pierce
DB Connor Rogowsky Franklin Pierce
DB Dan Gilmore Navy
DB Devin Graves Navy
DB Patrick McMahan Navy
DB T.J. Piland Post
DB Ian Lawrie Princeton
LB Ryan Gallagher Army West Point
LB Nathan Lopez Army West Point
LB Jino Park Cornell
LB Josh Capwell Mansfield
LB Chris Colavita Penn
LB Quinn Karam Penn
LB Mulay Sarbanes Princeton
LB Kris Garris Princeton
LB Jon Baldwin Chestnut Hill
DL Curtis Jerzerick Army West Point
DL Marquis White Navy
DL Temple Sloan Navy
DL Blake Papet Navy
DL Hunter Heflin Penn
DL Spencer Haldeman Princeton
DL Brian Layden Chestnut Hill