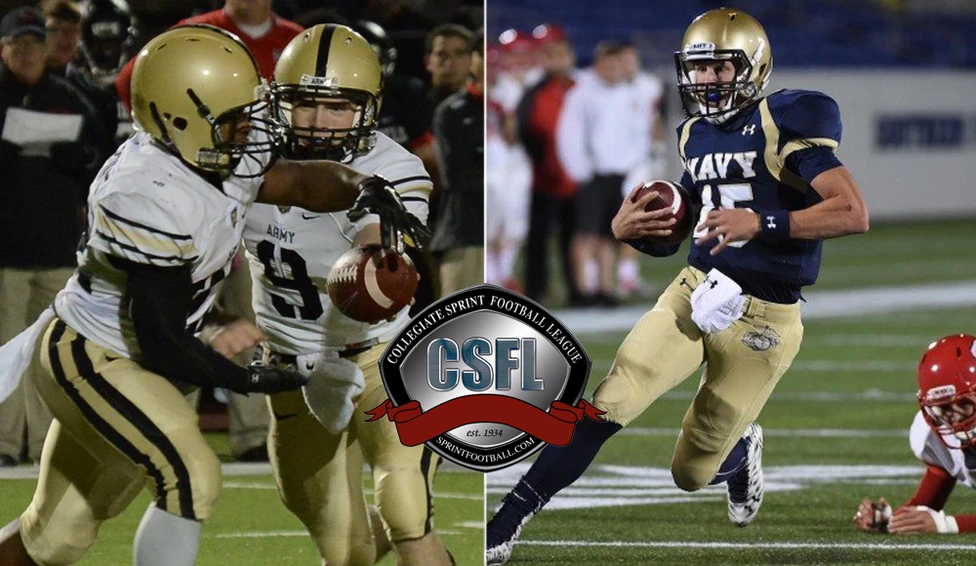 Championship Game Preview
By: CSFL Staff | Collegiate Sprint Football League | October 30, 2015
WEST POINT, N.Y. – As has been the case more often than not, the final week of the 2015 CSFL season comes down to a battle between perennial powers Army West Point and Navy to decide the league title. This year's game will be played at 2 p.m. at West Point Saturday.
Army is already assured of at least a share of the league title, but the Black Knights would rather win it outright and complete the perfect season. Navy, which has one loss entering the weekend, can earn a share of the title with a win, but cannot win the title outright.
To no surprise, Saturday's game will feature the two best teams in the league as Army and Navy have dominated in 2015, ranking first and second in nearly all major offensive and defensive categories.
The Army offense ranks first in the league in scoring at 39.2 points per game, while the Navy offense is right behind at 36.7 points per game. The Mids have the edge in total offense, averaging 373.8 yards per game, while Army averages 348.3 yards per game.
Defensively, Army allows just 160.3 yards and 2.2 points per game to lead the league in each category, while Navy ranks second allowing 171.0 yards and 8.2 points per game. The Army defense has recorded an incredible 40 sacks on the year and hasn't let anyone run on it. The Black Knights are holding opponents to -7.2 rushing yards per game as the opposition has rushed for -43 yards on 207 carries this season.
Both teams have been good at taking the ball away, with Army ranking second in the league with 15 interceptions and Navy ranking third with 12.
Both teams feel good about their kicking game, but if it comes down to the line with a game-winning field goal attempt, Army will feel better about its chances with Warren Kay taking the kick. He has made a league-high seven field goals and has a season-long of 48 yards.
Offensively Army will look to lean on a balanced attack with Marqus Burrell rushing the ball and Brady Miller handling the passing duties. Burrell has rushed for 435 yards and four touchdowns this season and averages 72.5 yards per game. Miller has completed 57-of-108 pass attempts for 609 yards, nine touchdowns and five interceptions. Keegan West has also seen time at QB, completing 22 passes for 259 yards with two TDs and two INT.
Austin Breed leads the Black Knights receivers with 26 catches for 304 yards and four TD, an average of 50.7 yards per game. Kevin O'Brien has 14 catches for 168 yards and one score and Ty Galyean has nine catches for 196 yards and a TD. Nine different players have a receiving TD and eight different players have a rushing TD.
The Army defense is paced by Arran Rounds with 32 total tackles, including 13 for loss and eight sacks. Philip Choi has an impressive 11.5 sacks and 13 tackes for loss. A total of 14 players have at least one tackle for loss. Tanner Andrews has four interceptions and two fumble recoveries and Jake Marchillo has three INT to lead the takeaway department.
The Navy offense has been led by starting quarterback Nick Deterding, who has been getting it done with his arm and his legs. He ranks second on the team in rushing at 77.2 yards per game and has ran for six TDs. He is also 46-of-89 for 764 passing yards, seven TDs and six INT.
Last year's league MVP Eric Wellmon has struggled to find the form of last year, but still leads the team and is among the league's top rushers at 79.8 yards per game. He has six rushing TDs on the year as well. McLain Lavis has added five rushing TDs for the Mids.
Matthew Hite leads the receivers with 21 catches for 425 yards and seven touchdowns. In contrast to Army, only three Navy players have recorded a receiving TD on the year. Corey Garcia ranks second on the Navy squad with 13 catches for 116 yards. No other player has more than four catches.
Hardy Davis leads the Navy defense with 47 total tackles, including nine for loss and 2.5 sacks. Temple Sloan has a team-high seven sacks and 13 tackles for loss. Kendall Mackey has recorded five interceptions.
Saturday's game will also serve as the annual Star Game between the two programs, with the winners receiving the annual star for winning the rivalry game.
Other CSFL action in week seven includes Princeton visiting Penn Friday night for a 7 p.m. game, Mansfield traveling to Franklin Pierce Saturday for a noon kickoff and Cornell traveling to Post for a noon kickoff Saturday. The year will close Nov. 6 with Chestnut Hill visiting Princeton.