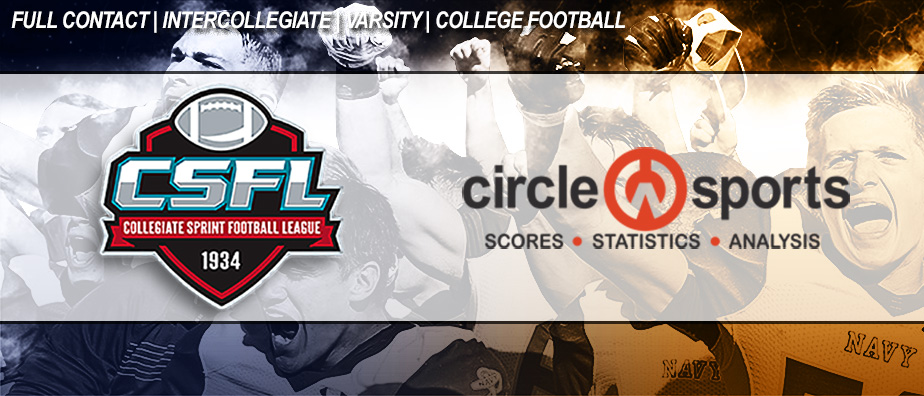 2015 CSFL Season Preview
By: CSFL Staff | Collegiate Sprint Football League | September 17, 2015
The Collegiate Sprint Football League (CSFL) will officially welcome its newest member, Chestnut Hill, and open the 2015 season with a slate of five games this weekend.
With defending champion Navy not playing a CSFL game in week one, the focus will be in Eastern Pennsylvania Saturday when Chestnut Hill makes its sprint football debut against Princeton at noon.
Below is a look at this weekend's matchups. Scores from each game will be posted to the new CSFL Twitter feed (@SprintFB) as they are available. The week one recap and Players of the Week will be announced Tuesday afternoon.
Post at Army West Point – Friday, Sept. 18 – 7 p.m.
Last season: Post (4-3, 3rd), Army West Point (6-1, 2nd)
Last Year's Score: Army West Point 31, Post 18
Army enters the 2015 season as one of the favorites to claim the league title and is looking to get back to the top step after suffering a defeat to Navy last fall. That loss was the only loss of the last three seasons for Army after the Black Knights went undefeated in the two previous years to claim the league title. Mark West returns as the head coach at Army for his seventh season. He owns a sterling 33-9 record. Army will look to Mitch Wear to quarterback the offense this year, but will lean heavily on the running game led by Marqus Burrell, who averaged 78 yards per game last fall. Leading receiver Tucker Van Dyke returns after posting 459 receiving yards and six touchdowns last year. Kevin O'Brien also returns to the receiving corps. The defense returns all three of its top tacklers from last year in Tyler Peterson, Buddy Craft and Ryan Gallagher.
Post enters the 2015 season under the direction of fourth-year head coach Michael Mannetti (13-8, 12-8 CSFL) looking to keep progressing up the ranks in the league. The Eagles put up a 4-3 overall record last year and had strong outings against the perennial powers. This year the offense returns two of the top players in the league in quarterback Greg Volpe and wide receiver Jay'Len Mahan, while the defense returns two top tier players in Bernard Peterson and Chris Leggio. Volpe completed 51 percent of his passes for 1,091 yards, nine touchdowns and just two interceptions last fall. Mayhan caught 26 passes for 439 yards and four touchdowns, including a 91-yarder. Leggio was the leading tackler on the defense with 49 total stops and Peterson recorded two interceptions and 19 tackles.
Longwood Club at Navy – Friday, Sept. 18 – 7 p.m.
Last season: Navy (7-0, 1st)
The defending league champions enter the 2015 season looking to keep their winning streak going after posting a perfect 7-0 record and regaining the top step in the league for the 36th time last fall. The Midshipmen will do so under the direction of a new head coach, Jeff Polson, USMC. There will be no surprises on the game plan for Navy, as the Mids' return 2014 CSFL MVP Eric Wellmon at the running back position. Wellmon broke the single-season rushing record at Navy and doubled up the rest of the league with 1,269 rushing yards and 17 touchdowns. He averaged 181.3 yards per game on the ground. Wide receiver Corey Garcia will be the top threat in the passing game after Colin Butler was invited up to play on Navy's NCAA Division I football team. The defensive unit returns six starters from last year's team, including Temple Sloan, Collin Ascherl and Keegan Kush.
Franklin Pierce at Penn – Saturday, Sept. 19 - Noon
Last season: Franklin Pierce (3-4, t-5th) Penn (4-3, t-3rd)
Last Year's Score: Penn 14, Franklin Pierce 7
Franklin Pierce enters the 2015 season under the direction of fourth-year head coach Peter Ewald looking to improve on last year's 3-4 record. The 2014 season included a strong finish with an overtime victory over Post and also included wins at Mansfield and over Princeton. The Ravens also played tough against powerhouses Army and Navy and dropped a one-possession game against Penn. The Ravens had four players named to All-CSFL honors last fall, including first team selections in linebacker James Willette and defensive lineman Josh Tilton. Tight end Michael Holdridge and running back Demitri Moreno were named to second team honors. All four of those first teamers return this year, but Moreno will move to the defensive side of the ball. Holdridge was the leading receiver with 19 catches for 246 yards and two touchdowns. Willette led the defense with 50 tackles and Tilton added 6.0 sacks and 9.5 tackles for loss. Also returning are the two players expected to touch the ball most in quarterback Derek Reddy and running back Andrew Jean. Reddy threw for 332 yards and one touchdown last year and Jean ran for 487 yards and four scores.
Penn enters the 2015 season under the direction of 46th year head coach Bill Wagner with high hopes after an impressive showing in the annual Alumni Game last Saturday, in which the current team put up 44 points and posted a 44-7 win. The Quakers unveiled slick new uniforms for the season as well. Penn returns some serious firepower in quarterback Mike McCurdy, who threw for four touchdowns and ran for one in the alumni game. McCurdy completed 55 percent of his passes for 1,157 yards and seven touchdowns last year. His top target, Henry Mason, also returns this year. Mason caught 27 passes for 376 yards and two touchdowns. The biggest question will be at running back, where Mike Beamish's departure leaves just one running back that touched the ball more than five times last year. Charles Cato ran for 96 cards on 22 carries with one TD. Defensively, Penn returns its top three tacklers from 2014 in Chris Colavita (46 tackles), Stu Helgeson (38 tackles) and Rob Diorio (37 tackles).
Princeton at Chestnut Hill - Saturday, Sept. 19 – Noon
Last season: Princeton (0-7, 8th)
The headliner for week one will be the official welcome party for Chestnut Hill, which will begin its inaugural season of sprint football at noon Saturday. The Griffins will play an abbreviated schedule in 2015 and their games will not count toward the league standings as the program acclimates to the league. Chestnut Hill chose Mike Pearson to be the first head coach of the program. He built his roster for this fall with a mix of transfer students, incoming freshmen and other current students that wanted a second chance at playing football. It's tough to predict the opening day lineup for Chestnut Hill, but a three-man quarterback battle took place during the preseason between Reginald Robinson, MarquisWatson and Theophilus McBurnette. The winner of that battle will be expected to lead a young unit. Upperclass defensive players Nicholas Fratto and Kevin Martinez could provide leadership on the other side of the ball. Chestnut Hill will play the opener at Plymouth Whitemarsh High School.
Princeton enters the 2015 season under the direction of second year head coach Sean Morey, who was the Ivy League Player of the Year in 1999 and was drafted by the New England Patriots in the seventh round of the 1999 NFL Draft. He appeared in two Super Bowls and made one Pro Bowl during his playing career. Morey has been charged with the task of restoring the program and has hopes for the first win for Princeton since 2005. The Tigers have lost 61 straight games dating back to Nov. 4, 2005 and are looking for their first CSFL victory since 1999. Morey named Mulay Sarbanes, Spencer Haldeman and Max Skelly as team captains for this season. Sarbanes played both sides of the ball last year and recorded 14 tackles and one fumble recovery. Haldeman recorded 13 tackles, one sack and one forced fumble and Skelly was an honorable mention All-CSFL selection on the offensive line. Quarterback Chad Cowden returns after completing 56 passes for 554 yards and two touchdowns. Mark Nowicki is the top returning defensive player after recording 17 tackles last fall.
Cornell at Mansfield - Saturday, Sept. 19 – 1 p.m.
Last season: Cornell (3-4, t-5th), Mansfield (1-6, 7th)
Last Year's Score: Cornell 38, Mansfield 21
Mansfield will host the final kickoff of opening weekend when it takes on Cornell in the 15th Annual Palmer Pigskin Classic. The Mounties won just one game last year and are looking to improve on that number under the direction of fourth-year head coach Graham Johnsen. Mansfield returns first team All-CSFL selections Joe Bucek and Kurt Logan on the offensive side of the ball and Kyle Post and Spencer Underdown on the defensive side. Logan led the CSFL in receiving last year with 42 catches for 587 yards and seventh touchdowns. Bucek was eighth in the league with 30 catches for 321 yards. Post tied for the CSFL lead with three interceptions and Underdown led the CSFL with 55 total tackles. The biggest change for Mansfield will be under center, where record setting QB Mike Maniscalco is now on the coaching staff and his backup last year, Austin Bennett, will be projected to get the starting nod.
Cornell begins the 2015 season with high expectations and a strong returning core. 51st year head coach Terry Cullen and his co-head coach Bart Guccia will lead the program. Cornell settled for a 3-4 record in 2014 but graduated only six players from that squad and the 2015 roster is loaded with returning talent, beginning with the starting quarterback Rob Pannullo. Pannullo ran for 408 yards and threw for 982 yards last fall to be arguably the top dual threat QB in the league. He completed 52.6 percent of his passes and threw 12 TDs. First team All-CSFL running back Benjamin Herrera, defensive back and punter Ryan Jackson and linebacker Chris D'Ambrosio all return this fall as well. Herrara ran for 479 yards and four touchdowns last year, while also catching 21 passes for 145 yards and two TDs. D'Ambrosio recorded 41 total tackes and 7.0 tackles for loss. The Big Red's leading scorer from last year, wide receiver Trevor Marrero, also returns after catching 12 passes for 248 yards and six touchdowns.