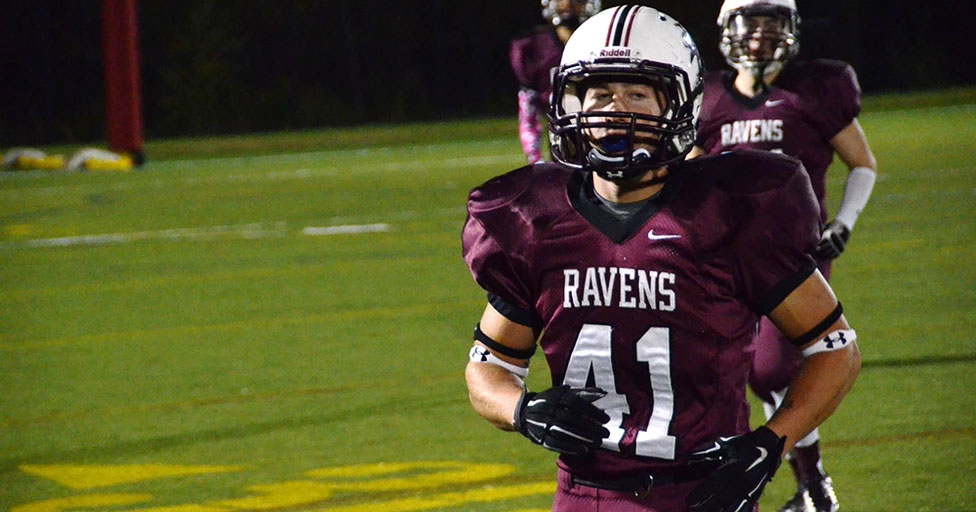 2014 Season: Week 6 Review
By: CSFL Staff | Collegiate Sprint Football League | October 26, 2014
CSFL Week 6 Review.
WEEK 6 REVIEW AND TITLE GAME PREVIEW
Offensive Player of the Week: Eric Wellmon, RB, Navy (Wallkill, N.Y.)
Wellmon continued his incredible season by rushing for a career-high 227 yards and three touchdowns on 30 carries to lead Navy to a convincing win over Franklin Pierce. He also scored a two-point conversion to account for 20 of the team's 45 points in the game. Wellmon owns five of the top six single-game rushing efforts in the league this year and has run for 1,138 yards. He needs just 15 yards in the season finale to break the Navy single-season record.
Defensive Player of the Week: Jason Reid, LB, Franklin Pierce (Leominster, Mass.)
Reid was a bright spot for Franklin Pierce in the loss against Navy, recording a game-high 11 total tackles and scoring a defensive touchdown. He added two tackles for loss and one sack. The highlight of the game came when he recovered a botched punt and took it 35 yards for a touchdown.
Special Teams Player of the Week: Louis Napoles, RB/PR, Army (Chino Hills, Calif.)
Napoles scored Army's lone special teams touchdown of the year in a big win over Penn last weekend, returning a punt 91 yards for a touchdown. It was the longest punt return of the season in the CSFL and Napoles finished with a game-high 149 all-purpose yards after recording 108 yards on punt returns, 17 on rushes and 24 receiving yards.
WEEK 6 - REVIEW
The sixth week of Collegiate Sprint Football League action saw league powerhouses Army and Navy steamroll to 6-0 records to set up a thrilling title game in week seven. Week six also featured the first win of the year for Mansfield and a game that was decided in the final minute between Post and Cornell.
-----------
Army (47) at Penn (7)
Army wasn't caught looking ahead to its big matchup with Navy. The Black Knights stayed focused in week six and rolled to a 47-7 win on the road at Penn Friday night.
Army finished the game with a 418-194 advantage in total yards after running for 177 and throwing for 241. Penn was held to just 16 rushing yards and 178 passing yards.
Marqus Burrell rushed for 80 yards and one touchdown on just seven carries for an 11.4 yard per carry average. J.J. Wartski completed 17 passes for 176 yards and three touchdowns. Zachary Woods caught six passes for 57 yards and one touchdown and Kevin O'Brien pulled down five passes for 56 yards and a score. Louis Napoles took a punt 91 yards for a touchdown and finished with 149 all-purpose yards.
Penn was led by Mike McCurdy, who completed 15 passes for 170 yards and one touchdown. Mike Beamich was held to 23 yards on 14 carries. Henry Mason caught seven passes for a game-high 99 yards and one touchdown.
ARMY NOTES: Army extended its winning streak to 20 games with a 47-7 victory at Penn on Friday night. The Black Knights' last loss came on Nov. 4, 2011, a 28-6 defeat to Navy in the 2011 CSFL Title Game. Army (6-0) and Navy (6-0) will meet on Halloween in the annual Star Game with the winner taking home the CSFL title. Army held Penn's offense to just seven points, its lowest total of the season. The Black Knights are averaging 48 points per contest over their last three games. Senior quarterback J.J. Wartski threw three touchdown passes in the victory. He has thrown at least three touchdowns in every game for Army this season. Freshman Louis Napoles returned a punt 91 yards to the house for Army's first special teams score of the season. The Black Knights also notched their first defensive scores with a safety by senior Buddy Craft and a fumble recovery in the end zone by freshman Nathan Lopez. Sophomore Marqus Burrell ran for 80 yards on only seven touches for an average of 11.4 yards per carry, including a 55-yard touchdown run in the third quarter. Ten different Black Knights caught a pass in the game. Army's defense totaled eight sacks, two interceptions, a safety and a fumble recovery for a touchdown. Senior Tyler Peterson had 10 tackles, while fellow senior David Brown and junior Jared Sturgell combined for five sacks. Army improved to 53-6 all-time against Penn. The Black Knights are first in the league in offense, averaging 40.4 points and 428.8 yards per game. Army is also second in the CSFL in defense just behind Navy, allowing 15.4 points and 238.8 yards per contest. The Black Knights are tops in the league in first downs (23.2/game), 3rd-down conversion percentage (52.8), turnover margin (+5), red zone scoring percentage (92), time of possession and tied with Navy for first with 29 sacks. Wartski leads the league with 17 touchdowns and a completion percentage of 62.9. Junior Tucker Van Dyke leads all receivers with 90.8 yards per game and is tied with Mansfield's Kurt Logan with six touchdown receptions. Senior wideout Zachary Woods is third in the CSFL with four touchdown catches and an average of five receptions per game. Three Army running backs are in the top-10 in rushing. Burrell is third averaging 88 yards per game on the ground, while junior Jesse Shackelford is eighth (42 yds/game) and Napoles is ninth (36.8). Junior Warren Kay leads all kickers with 26 PATs and six field goals. Four Black Knights are in the top-10 in the CSFL in sacks. Brown is second in sacks (7.5), Sturgell and Peterson are tied for fourth (5), and senior Philip Choi is tied for sixth with four. Brown is tied for third with 8.5 tackles for loss and Peterson is tied for fifth with eight. Freshman Christian Hess is third in the league with five passes defended, sophomore Sam O'Ferrall is tied for third in interceptions with two and Craft leads the league with three fumble recoveries. For the sixth season in a row, the Star Game will decide the CSFL champion. Army will look to win its third straight league title over Navy Friday night.
PENN NOTES: The University of Pennsylvania sprint football team fell to Army, 47-7, in its final home game of the season on Friday night at Franklin Field. Celebrating senior night prior to kickoff, the Quakers (3-3) had hoped to send their seniors out with a win, but a slow start for the Red and Blue gave Army the momentum early and proved to be too much for Penn to overcome. Penn managed just one score in the contest, coming in the fourth quarter, when sophomore quarterback Mike McCurdy found junior receiver Henry Mason in the back of the end zone on a 32-yard touchdown pass. McCurdy finished with 170 yards passing, while Mason hauled in seven receptions for 99 yards. The first half saw Army (6-0) score in all sorts of manner. Two offensive touchdowns, a 91-yard punt return for a touchdown by Louis Napoles, a safety off a blocked punt by Buddy Craft, and a field goal by Warren Kay, gave the Black Knights a 26-0 lead at halftime over Penn. Army would score twice more on offense in the second half, while also scoring on botched punt return by the Quakers. Penn will take the third best scoring defense in the CSFL into the final week of the season and a road trip to Princeton. The Quakers will be heavy favorites in that contest and can secure a winning season with a 4-3 record with a victory.
-----------
Post (17) at Cornell (14)
In what proved to be the CSFL Game of the Week, Post used a big passing play and a late scoring drive to come back and earn a 17-14 victory on the road at Cornell.
Cornell led 7-3 at halftime before a 91-yard TD pass from Greg Volpe to Jay'Len Mahan gave Post a 10-7 lead with just over four minutes to play in the third quarter. Cornell responded with a TD pass from Rob Pannullo to Trevor Marrero with 10:34 to play in the fourth quarter to regain the lead, 14-10.
Post took advantage of good field position inside the final three minutes and scored the winning points with just 36 seconds left on the clock when Joseph Lynch ran in from two yards out to make it 17-14.
Mahan finished the game with four catches for 121 yards and one touchdown. Volpe completed 18-of-28 passes for 266 yards, one touchdown and no interceptions. Lynch ran for 78 yards and one TD on 23 carries.
Pannullo led Cornell through the air and on the ground. He ran for 79 yards on 19 carries and completed 14 passes for 184 yards and two touchdowns. Jonathan Roth caught five passes for 101 yards to lead the Cornell receivers.
Cornell finished the game with a slim 373-356 advantage in total yardage.
POST NOTES: Post takes a 3-2 record into this week's home game against Franklin Pierce. The Eagles are also scheduled to travel to Princeton Nov. 7 to make up a game from earlier this season. Joseph Lynch ranks fourth in the league in rushing at 73.4 yards per game and has competed in one less game than most of the other backs in the league. Greg Volpe ranks fourth in the league in passing at an average of 150 yards per game. He has the longest completion of the year, his 91-yard touchdown throw last weekend to Jay'Len Mahan. Mahan ranks third in the league in receiving with 361 yards and an average of 72.2 yards per game. He is tied for third in the league with four receiving TDs and ranks fourth in scoring with 30 points.
CORNELL NOTES:
Cornell dropped a heartbreaker last Friday against Post at Schoellkopf Field. The Big Red led the majority of the game, before Greg Volpe connected with Jay'Len Mahan on a 91-yard catch and run, jumping the Eagles into the 10-7 lead. Cornell battled back in the fourth quarter with Pannullo engineering a nine-play 77-yard scoring drive capped with a five-yard scoring strike to Trevor Marrero to reestablish the lead. The Eagles got the last laugh. After regaining possession with just under three-minute to go, Volpe led Post on an eight-play 42-yard drive with Joseph Lynch pounding in a touchdown from two-yards out with 36-seconds remaining. The Big Red will close their season this week at home against Mansfield, a team Cornell has never lost to in 10 all-time matchups. The teams first met in 2008, playing two games each season from 2008-2011. Cornell has averaged 31.1 points in the matchups, while it has allowed 15.8 points on average. Cornell is 5-0 all-time against the Mountaineers at Schoellkopf Field. Cornell concluded the 2013 season with a successful trip to Mansfield, scoring a thrilling 26-24 victory over the Mountaineers. The game featured one tie and seven lead changes, the final change coming when Cornell quarterback Brendan Miller connected with Michael Crawford on a nine-yard scoring strike with just :09 remaining on the clock. Miller went 11-of-17 for 92-yards through the air, while adding 51 and two additional scores on the ground. Pannullo added 64-yards through the air and another 44 on the ground in the victory.
-----------
Princeton (0) at Mansfield (67)
After five close calls, Mansfield picked up its first win of the season with a 67-0 victory over Princeton. The Mountaineers scored 53 second half points after holding a 14-0 halftime advantage and set a school record with 510 yards in total offense, while holding Princeton to just 83 yards of total offense.
Quarterback Mike Maniscalco passed for more than 250 yards for the third game in row throwing for 268 yards and two touchdowns to become the first player in Mansfield sprint history to pass for more than 1,500 yards in a season. Maniscalco now has thrown for a CSFL-best 1,549 yards and has 13 touchdowns with just six interceptions. Senior Jeremy Estremera started at running back for the first time this season picking up 78 yards on 15 carries to become MU career sprint rushing leader. Eddie Larcom led the receivers for Mansfield with seven catches for 93 yards and one touchdown.
Princeton's Chad Cowden completed just nine passes for 89 yards and was intercepted four times.
PRINCETON NOTES: Princeton remained winless and was shutout for the third time this season. The Tigers are scheduled to host Penn this week and are then scheduled to host a makeup game against Post Nov. 7.
MANSFIELD NOTES: Mansfield travels to Ithaca for the traditional season-ending rivalry game. The Mountaineers have not beaten the Big Red in eight tries since becoming a full-time member of the CSFL in 2009. However the last three games have been battles including last year's 26-24 setback when Cornell scored on a touchdown pass on a fourth-down on the last play of the game. Maniscalco completed 14-of-21 passes for 161 yards and a touchdown in that game while rushing for 75 yards. Kurt Logan and Eddie Larcom each caught touchdown passes. Mansfield ranks second in the CSFL in passing averaging 259.8 yards per game in the air and has the league best pass defense allowing an average of just 124.3 yards per game. Mansfield will be challenged by a balanced Cornell offense that has rushed for 964 yards on the season and passed for 958 yards. The Mountaineers, who rank seventh in the CSFL in rushing offense (66.3 ypg) ran for a season best 232-yards against Princeton.
-----------
Navy (45) at Franklin Pierce (21)
Just like Army at Penn, Navy wouldn't be caught looking ahead last week either. The Midshipmen ran for 261 yards and rolled to a 45-21 win on the road at Franklin Pierce.
In what is becoming a weekly theme, Navy was led by workhorse running back Eric Wellmon, who is running away with the CSFL rushing title this year. He carried the ball 30 times for a career-high 227 yards and three touchdowns. He also scored on a two-point conversion to account for 20 of the team's 45 points.
Navy finished the game with a 418-204 edge in total yardage after holding Franklin Pierce to just 40 yards on the ground and 164 passing yards.
Joe Hampton completed eight passes for 157 yards and three touchdowns for Navy. Matthew Hite caught three passes for 86 yards and one touchdown and Colin Butler caught two passes for 43 yards and two touchdowns.
The Ravens were led by Derek Reddy, who completed 12 passes for 164 yards and one touchdown and ran for 29 yards and one score. Michael Holdridge caught four passes for 50 yards and one touchdown. Jason Reid led the defensive effort with 11 total tackles and returned a botched snap on a punt for a 35 yard touchdown.
NAVY NOTES: The Navy sprint football team continued its undefeated 2014 campaign with a strong effort on the road at Franklin Pierce on Saturday. Taking on a 2-4 Ravens team, the Mids moved to 6-0 with a 45-21 win. Down 21-20 early in the third quarter, Navy closed the game on a 25-0 run to earn the victory. For the game, Navy outgained Franklin Pierce, 418 to 204 on the strength of a 261 to 40 advantage in rushing yards. Offensively, Eric Wellmon led the Mids with a career-high 227 rushing yards and three touchdowns. His stellar outing was augmented by three passing touchdowns and 157 yards from quarterback Joe Hampton. Hampton connected on his scoring passes to Colin Butler twice and Matthew Hite once. The season wraps up for Navy this Friday night at home versus Army. In the annual Star Match, the CSFL title will be on the line between the two 6-0 teams. Ranked one and two in most of the league's offensive and defensive categories, the action should be close and competitive throughout and could come down who executes the best and gets their opponent off the field. In last year's matchup at West Point, three long drives of 70 or more yards doomed the Midshipmen as the Black Knights converted these drives into 17 points on their way to a 17-0 first half lead. Navy's offense never really gained traction versus Army as it was held to just seven points and 66 total yards. QB Joe Hampton was sacked six times by Black Knight defenders to unnerve the Midshipmen offense. For the game, Navy was outgained 372 to 66.
FRANKLIN PIERCE NOTES: The Ravens held their own in the first half on Saturday, but ran out of steam in the second half of a 45-21 loss to Navy in the team's home finale. Jason Reid and James Willette finished with 11 tackles each, while the former returned a fumble 35 yards for a touchdown in the third quarter. Derek Reddy went 12-for-31 for 164 yards and a touchdown, but was intercepted once and sacked five times. Franklin Pierce struggled to get the ground game going against the Midshipmen and netted just 40 yards rushing. Michael Holdridge had a game-high four catches for 50 yards and a touchdown. The Ravens wrap up their season this week with a Saturday trip to Post for their annual Talon Cup matchup.
------------
CSFL TITLE GAME PREVIEW - FRIDAY NIGHT AT NAVY
For the sixth year in a row, the annual Army-Navy Star Game will decide the winner of the CSFL championship. The game will be played at Navy Friday night, Oct. 31, with a 7 p.m. kickoff.
Army is looking to claim its third consecutive CSFL title and keep its current winning streak alive as the Black Nights have not lost a game since dropping the CSFL title game to Navy during the last week of the 2011 season. Army was victorious at home last year, 17-7, and won the league title two years ago at Navy with a 21-18 victory.
Navy is eager to complete its first undefeated season since last winning the CSFL crown in 2011. The Midshipmen will bring the best running offense and the best overall defense into the title game, and will have the advantage of home field in their favor.
The game figures to be a battle, not only because of the long and storied rivalry between the two service academies, but because Army and Navy rank first and second in virtually every major statistical category in the league this fall.
Army owns the top scoring and total offense, averaging 40.4 points and 428.8 yards per game. Navy ranks second at 39.7 points and 392.8 yards per game.
The Mids are No. 1 in scoring and total defense, allowing just 15.0 points and 173.3 yards per game. The Black Knights are a close second, allowing 15.4 points per game and 238.8 yards per game.
Navy's biggest edge on paper is the running game, led by Eric Wellmon. The Mids lead the league by a wide margin in rushing at 245.5 yards per game. Army is a distant second at 163.6 yards per game. Wellmon will win the rushing title in the league this year by a huge advantage. He has 1,138 yards already and can break the Navy single-season record with just 15 yards Friday night.
While Navy's offensive advantage is its run game, Army will counter with the best passing attack in the league at 265.2 yards per game. Navy is a distant sixth in passing offense, averaging 147.3 yards per game. Army QB J.J. Wartski leads the attack and is averaging 246 yards per game. He has thrown for 1,230 yards and a league-high 17 touchdowns, while being intercepted just four times.
While both teams boast impressive offensive numbers, expect to see some hard hitting from the top two defensive units in the league. Navy has slammed the door at the line of scrimmage this year and is allowing a league low 11.5 yards per game rushing. Army has allowed just 61.4 yards per game on the ground. Neither team ranks in the top three in pass defense, as Navy is fourth in the league at 161.8 yards per game and Army is fifth at 177.4 yards per game.
Regardless of the outcome, one thing is for sure, Friday night's game will provide another thrilling conclusion to the CSFL season and another chapter in the long-running rivalry between the two fierce opponents.