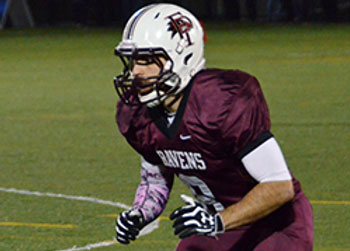 2014 Season: Week 5 Review
By: CSFL Staff | Collegiate Sprint Football League | October 19, 2014
CSFL Week 5 Review.
WEEK 5: PLAYERS OF THE WEEK
Offensive Player of the Week: Corey Garcia, WR, Navy (San Diego, Calif.)
Garcia led Navy to a 42-30 win over Cornell to keep the Midshipmen in a tie with Army atop the CSFL standings. He recorded 213 all-purpose yards and three touchdowns in the game. Garcia racked up 126 receiving yards, including touchdown grabs of 59 and 53 yards, ran for 43 yards on seven carries, including a four-yard TD, and recorded 44 yards on punt returns.
Defensive Player of the Week: Vincent Dellefave, DB, Post (Montville, N.J.)
Dellefave was instrumental in leading Post to a 28-21 win over Penn in the only game in the CSFL that was decided by one possession in week five. He recorded two crucial interceptions in the game, one on the first Penn series of both the third and the fourth quarters, and also finished second on the team with five tackles.
Special Teams Player of the Week: Derek Reddy, Franklin Pierce, QB/P, (Natick, Mass.)
Reddy was the all-around MVP for Franklin Pierce in a 36-15 win over Mansfield. In addition to his quarterbacking numbers, he also punted three times for an average of 39.7 yards, including a 58-yard punt, and pinned Mansfield inside the 20 on two punts. Reddy also rushed for 128 yards and three touchdowns and threw for 60 yards.
WEEK 5 - REVIEW
The fifth week of Collegiate Sprint Football League action featured a forfeit, two high-scoring affairs and just one game that was settled by one possession. In the end, Army and Navy emerged with unblemished 5-0 records to remain tied atop the league standings.
-----------
Army at Princeton - Army Wins by Forfeit
Princeton forfeited the game it was scheduled to host Friday night against league powerhouse Army. The victory improved the Black Knights to 5-0 and kept them atop the league standings, while Princeton remains winless.
PRINCETON NOTES: Princeton is winless on the year and has not won a game since Oct. 28, 2005, a 19-7 victory over the Virginia Military Academy in non-CSFL action. The Tigers last win over a CSFL opponent came in 1999, a 12-7 victory over Cornell. The closest Princeton games in recent years have been against this week's opponent, Mansfield, but the Mountaineers have managed to emerge victorious in each meeting.
ARMY NOTES: Princeton forfeited its game against Army on Friday due to lack of depth, pushing Army's win streak to 19 games. The Black Knights are 5-0 on the season, tied with Navy for first in the CSFL. Army is now 56-3-2 all-time against Princeton. The Black Knights defeated Mansfield, 48-32, the last time out. Army racked up 265 yards on 57 attempts led by sophomore Marqus Burrell, who had 117 yards on 25 carries and a touchdown. Junior Jesse Shackelford had a career day, rushing for 76 yards on 15 carries and found the end zone twice. Senior J.J. Wartski was 24-for-40 for 262 yards and three scores. He has thrown at least three touchdowns and topped 200 yards passing in all four games in which he has played so far. Army leads the league in both total offense and scoring offense, putting up 38.8 points and 431.5 yards per game. The Black Knights are also second in the CSFL in scoring defense and total defense behind the Midshipmen. Army is tops in third-down conversion percentage, red zone offense, time of possession and tied for first in turnover margin (+4). Wartski leads the league in yards per game (263.5), completion percentage (61.9) and touchdown passes (14). Van Dyke leads all receivers in receptions per game (6.5), yards per game (113.5) and touchdowns (6). Senior Zachary Woods is fourth making 4.8 catches per game. Army has three running backs in the top 10 in rushing yards per game. Burrell averages 90 a game, freshman Louis Napoles puts up 41.8 per game and Shackelford has averaged 41.7 yards per contest. Junior Warren Kay leads all kickers with 20 PATs and five field goals. Four Black Knights stand in the top 10 in the CSFL in sacks led by senior David Brown (4.5). Fellow senior Tyler Peterson is fourth in the CSFL with 6.5 tackles for loss. Sophomore Sam O'Ferrall is tied for second with two interceptions and senior Buddy Craft is tops in the league with three fumble recoveries. Next up for Army is the Penn Quakers. The Black Knights lead the all-time series, 52-6. Army and Navy are the only undefeated teams remaining with Penn sitting in third at 3-2. With only two games remaining for both, either the Black Knights or Mids will earn the CSFL crown. Army and Navy will square off on Oct. 31 in the annual Star Game.
-----------
Navy (42) at Cornell (30)
Navy led 28-17 at halftime and allowed zero points in the third quarter en route to pulling away for a 42-30 win over Cornell on the road to keep pace with Army at 5-0 atop the league standings.
Navy finished the game with a 529-361 advantage in total yardage after running for 227 yards and throwing for 302. Cornell was held to just 66 yards on the ground and passed for 295 yards.
Eric Wellmon continued his MVP-type season by carrying the load again for the Midshipmen. He rushed for 183 yards on just 20 carries and scored two touchdowns. Joe Hampton passed for 301 yards and three touchdowns on 15 completions and Corey Garcia finished with 213 all-purpose yards and three total touchdowns.
Cornell was led by Rob Pannullo, who completed 23-of-48 passes for 295 yards and four touchdowns, but he was also picked off three times. Benjamin Herrera caught seven passes for 46 yards and one TD and ran for 33 yards on nine carries. Trevor Marrero pulled down three passes for 62 yards and two touchdowns.
NAVY NOTES: The Navy sprint football team continued its run of undefeated action going this season with a 42-30 victory over Cornell on the road on Saturday. The Mids used 529 yards of total offense to overcome an early Big Red touchdown on their way to the win. Navy outgained Cornell by 168 total yards on the strength of advantages in the rushing game, 227 to 66 and in the passing game, 302 to 295. The 529 yards of total offense was the most for Navy in CSFL action since it recorded 579 against Princeton on Oct. 16, 2009. In a well-rounded offensive attack, three Mids led the way, QB Joe Hampton, RB Eric Wellmon and SB Corey Garcia. Hampton threw for three touchdowns and a career-high 301 yards, while Garcia combined for 213 all-purpose yards on receptions, rushes and punt returns. Wellmon notched his fourth straight game with multiple touchdowns and 175 or more yards as the junior went for 183 and two scores. Wellmon's second touchdown broke the program's single-season record of 13 that was set in 1997. This Saturday, Navy will complete the road portion of its 2014 schedule with a matchup at Franklin Pierce. Last year in Annapolis, the Mids defeated the Ravens 23-9 in both teams' season opener. A 23-3 run during the second and third quarters of the game staked Navy to a lead that it would not relinquish as its defense held Franklin Pierce under 100 yards of total offense until the fourth quarter. Overall, the Mids outgained the Ravens, 315 to 118. Hampton led the offense with three touchdown passes and 128 yards through the air, while DE Chris Mershon registered 12 tackles and a forced fumble to lead a defense that had 18 tackles for losses.
CORNELL NOTES: The Big Red ultimately dropped its contest against the Midshipmen 42-30 on Saturday afternoon, however there were plenty of silver linings that the young squad is starting to come into its own under second year quarterback Rob Pannullo. Pannullo set new career highs in completions, attempts, yards, and touchdown passes in the loss. With the strong performance, the Big Red scored the most points on a Navy defense since Army put up 32 on the Midshipmen in the season finale of the 2010 season. The Big Red tripled the output that the Midshipmen had been holding teams to, blitzing the CSFL's top-ranked scoring defense (9.6ppg) for 30 in the loss. Defensively, the Big Red continued to force turnovers, snaring two interceptions of Midshipmen quarterback Joe Hampton. What did in the Big Red was the big play. Navy had five scoring plays that went for 35+ yards in the game, with three of those plays going for 50+ yards. Now the Big Red turn their attention to Post. The Big Red has struggled with the Eagles in recent seasons, with the last victory coming by a 22-14 score at Schoellkopf Field in 2010. Opening kick is scheduled for Friday, Oct. 24, at 7 p.m.
-----------
Franklin Pierce (36) at Mansfield (15)
Franklin Pierce forced three turnovers and posted a shutout for two quarters in rolling to a 36-15 win on the road at Mansfield last weekend.
The Ravens held the Mountaineers to just 14 net rushing yards and finished the game with a 70-yard deficit in total offense, as Mansfield threw for 357 yards to post a 371-301 edge in total yardage. Franklin Pierce rushed for 241 yards and threw for 60 in the win.
Mansfield got another big passing day from Mike Maniscalco, who completed 26 passes for 357 yards, two touchdowns and one interception. Kurt Logan caught eight passes for 150 yards and Jeremy Estemera grabbed eight passes for 87 yards and one score.
Franklin Pierce was led by the quarterbacking performance of Derek Reddy, who ran for 128 yards and three touchdowns on 19 carries and also threw for 60 yards. Demitri Moreno added 85 rushing yards and one touchdown on 18 carries and also caught three passes for 34 yards. James Willette led the defensive effort with 11 tackles, including nine solo, 1.5 tackles for loss and a forced fumble.
FRANKLIN PIERCE NOTES: The Ravens got back in the win column on Saturday with a 36-15 win at Mansfield. Derek Reddy was the highlight of the day for the Ravens, as he ran for 128 yards and three scores on 19 carries (6.7 yards per rush) and added 6-for-12 for 60 yards through the air. Demitri Moreno added 85 yards and a touchdown on 18 carries. Of Reddy's three scores, one was a 45-yard scamper in the fourth quarter. James Willette led all players with 11 tackles (nine solo) and also forced a fumble. The Ravens host their final home game of 2014 this week, as Navy comes calling in Rindge on Saturday afternoon. Franklin Pierce owns the fourth best scoring offense and defense in the CSFL, scoring 21.6 points per game and allowing 18.2. Navy owns the second offense at 38.6 points per game and the first defense, allowing just 13.8 points per game. Franklin Pierce is sixth in the CSFL in total offense at 262 yards per game and is third in total defense, allowing 284.4 yards per game.
MANSFIELD NOTES: Senior QB Mike Maniscalco broke the school record for attempts (48) and competitions (26) in a game. It marks the first time in school sprint football history a Mountaineer quarterback has thrown for 300 or more yards in back-to-back games. Maniscalco, who has passed for 737 yards and seven touchdowns in the past two weeks, became the first MU quarterback in sprint history to pass for more than 1,000 yards in a season and now has 1,281 yards and 11 touchdowns on the season. Sophomore wide receiver Kurt Logan recorded up his second straight game with 150 of more reception yards pulling down eight catches for 150 yards. Kyle Post picked off his third pass of the season in the game and now leads the CSFL in interceptions. Mansfield will face Princeton this week. Mansfield has never lost to Princeton in seven tries. The last two games have been the most competitive with Mansfield holding on for a 23-16 win at Princeton in 2012 and recording a 24-14 win in Mansfield's first home night football game in 121-years before a CSFL record 6,223 fans last year. Both teams will be looking for their first win of the season. The Mountaineers have one of the most exciting passing attacks in the CSFL behind Maniscalco, who has completed 98-of-196 passes for 11 touchdowns and 1,281 yards. Maniscalco ranks second in the CSFL in passing yards per game (256.2) and touchdowns. Mansfield has four receivers who ranked among the top 10 in the CSFL so far this year. Sophomore Kurt Logan has put together back-to-back 150 yard games in the last two weeks and ranks second in the league in receptions (31), yards per game (91.2) and touchdown catches (5). Junior Joe Bucek ranks third in the CSFL in receptions (25) and sixth in yards per game while sophomore Eddie Larcom and senior Jeremy Estremera rank sixth and seventh in catches and have combined for 415 yards and five touchdowns. Mansfield has not been able to put together an effective running game since the opener when they lost starting tailback Trelijah Miller with an injury. Injuries have also had an impact of the offensive line, which has given up a league-high 27 sacks of the season. Defensively the Mountaineers have been among the top pass defenders in the league ranking second in the CSFL in pass defense allowing just 131.4 yards per game and a league-low four passing touchdowns on the year. Mansfield has struggled a bit against the run allowing an average of 222.8 yards a game to opponents and give up 16 rushing touchdowns. Junior linebacker Spencer Underdown ranks fifth in the CSFL in tackles with a team-best 37 stops. Senior defensive lineman Anthony Mazzone is 8th in the league in tackles with 35. Sophomore defensive back Kyle Post tops the CSFL in interceptions with three and ranks 11th in tackles (32).
-----------
Post (28) at Penn (21)
In what turned into the CSFL Game of the Week, Post jumped out to a 21-7 halftime lead and held on for a 28-21 victory on the road at Penn in the only one possession game of the week.
Post finished with a 399-327 edge in total yardage after throwing for 254 yards and running for 145 yards. Penn ran for 96 yards and threw for 231 yards, but was intercepted three times and lost two fumbles for five total turnovers.
Joe Lynch carried the ball 34 times for 142 yards and two touchdowns to lead Post. Greg Volpe completed 12-of-22 passes for 254 yards and two touchdowns. Jay'Len Mahan was the favorite target in the game, catching four passes for 146 yards and two touchdowns, including an 81-yarder as time expired in the opening quarter.
Penn was forced to rely on Mike McCurdy to carry the offense. He ran for 79 yards on 16 carries and also completed 14 passes for 231 yards and three touchdowns. Henry Mason caught five passes for 231 yards and one score and Jack Epstein and Andrew Sutton each caught one touchdown pass.
Post's defense was led by Vincent Dellefave, who recorded two crucial interceptions and five tackles.
POST NOTES: The Post offense got on track on Friday night with a 28-21 victory over Penn. Joe Lynch carried the ball a season-high 34 times for 142 yards and two touchdowns. Greg Volpe threw for 254 yards and two scores, both to Jay'Len Mahan who also had four catches for 146 yards. On defense, Post forced five turnovers including a late fumble by Chris Leggio to seal the victory. Vincent Dellefave had two interceptions and five tackles. T.J. Piland had a pick and a fumble recovery. Matt Santos recorded four tackles, including three for a loss and one sack. Post finishes its three-game road swing on Friday night against Cornell. The win over Penn was a big boost for Post, which now owns the seventh best scoring offense in the league at 18.2 points per game. Post owns the sixth best scoring defense in the league, allowing 27.8 points per game.
PENN NOTES: Looking to mount a second half comeback once more this season, the University of Pennsylvania sprint football team fell, 28-21, to Post on Friday evening at Franklin Field. Penn (3-2) pulled to within a touchdown of the Eagles (2-2) late in the fourth quarter, but were unable to complete a come from behind victory, turning the ball over with just under two minutes to go in the fourth quarter. Henry Mason, Jack Epstein, and Andrew Sutton all caught touchdown passes from quarterback Mike McCurdy in the game. McCurdy finished 14-of-29 passes with the three touchdown passes and three interceptions. Leading the defense for Penn was Rob Diorio with 12 tackles, followed by Stu Helgeson with 11 stops, and Chris Colavita with nine tackles. Penn owns the fifth best scoring offense in the league at 20.8 points per game and the third best scoring defense, allowing just 17.6 points per game. The Quakers are third among all CSFL teams in total offense at 312.6 yards per game. Mike Beamish went down early in the game last week, forcing Penn to rely on the McCurdy. Beamish is second in the CSFL in rushing, averaging 102 yards per game.