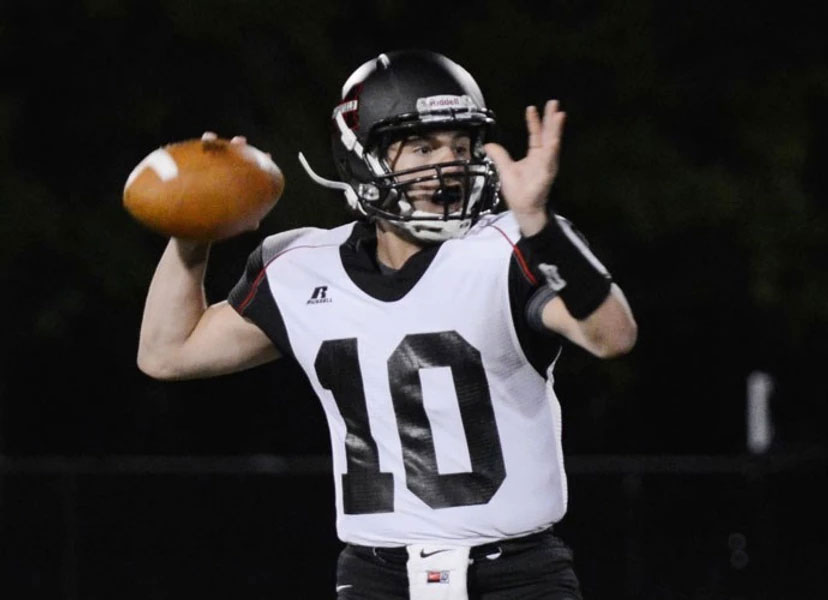 2014 Season: Week 4 Review
By: CSFL Staff | Collegiate Sprint Football League | October 11, 2014
CSFL Week 4 Review.
WEEK 4: PLAYERS OF THE WEEK
Offensive Player of the Week: Mike Maniscalco, QB, Mansfield (Williamstown, N.J.)
Maniscalco completed 24-of-44 passing attempts for 380 yards and five touchdowns, breaking the school record for attempts, completions, yards and touchdowns in a game and throwing for more yards against Army than the Black Knights had allowed all year combined. His 78-yard toss for his fifth TD of the night was also a school record. The Army defense had only allowed a total of 329 passing yards and two passing TD's over its first three games of the season, combined. It was the most passing yards given up by Army in a game since Penn's Todd Busler completed 30-55 passes for 390 yards in a 58-44 loss in 2011.
Defensive Player of the Week: Stu Helgeson, LB, Penn (Landisville, Pa.)
Helgeson was the most influential player on a defense that held up strong in the week's only one-possession victory. He led Penn's defensive unit to a 14-7 win with seven tackles, one interception and two pass breakups to help keep the Quakers in front of Franklin Pierce.
Special Teams Player of the Week: Jay'Len Mahan, Post, WR, (Waterbury, Conn.)
Mahan was the lone bright spot for Post in a 41-6 loss at undefeated Navy. He took the opening kickoff 92 yards for a touchdown and what would prove to be the Eagles' only points of the game. The return TD was just the second kickoff return for a touchdown in the CSFL this season and is the longest return in the league this year.
WEEK 4 - REVIEW
The fourth week of Collegiate Sprint Football League action featured three high-scoring games and one low scoring one-possession game. In the end, Army and Navy kept their undefeated seasons going to stay atop the league standings with 4-0 records.
-----------
Mansfield (32) at Army (48)
Army survived a scare from winless Mansfield Friday night to improve to 4-0 with a 48-32 win at West Point.
Mansfield put up 380 yards through the air, the most allowed in a single-game against an Army defense since 2011. That wouldn't be enough, as the Black Knights defense held the Mountaineers to just 16 rushing yards. Army finished the game with a 527-396 advantage in total yardage after running for 265 yards and throwing for 262.
J.J. Wartski completed 24-of-40 passes for 262 yards and three touchdowns to lead Army. Marqus Burrell ran for 117 yards and one touchdown and Tucker Van Dyke continued his huge season with six catches for 70 yards and two touchdowns.
Mansfield was led by record-setting performances from Mike Maniscalco, who completed 24-of-44 passes for 380 yards and five touchdowns, including a 78-yarder. Kurt Logan caught 11 passes for 158 yards and three touchdowns and Eddie Larcom pulled down nine passes for 126 yards and one TD.
MANSFIELD NOTES: Mansfield may be one of the best 0-4 CSFL football teams ever. The Mountaineers went into West Point on Senior Night and rolled up 32 points on the Black Knights, the most points given up by an Army team since 2011 and more than Mansfield scored combined in its first five games against Army. Senior QB Mike Maniscalco put on a record-setting performance completing 24-of-44 passing attempts for 380 yards and tossing five touchdowns despite incredible pressure. Sophomore Kurt Logan set school records for receptions (11), yards (158) and touchdowns (3) in a game while freshman Myles Hauser broke the school mark with a 78-yard touchdown reception. Mansfield has split its two games in its series with Franklin Pierce recording a 32-14 victory at Karl Van Norman Field in 2012 and dropping a 27-24 decision in overtime at Franklin Pierce last year. The tough-luck Mountaineers are 0-4 but have played well in all four contests, dropping a 14-13 decision to Penn in the season opener and leading Navy at halftime before falling 26-14, before being edged 21-18 at Post. Mike Maniscalco has been the spark of the Mountaineers offensive attack and has already set school records for completions (72), yards (924) and touchdowns (9) in a season with three games remaining. Mansfield also has three of the top receivers in the CSFL in sophomores Kurt Logan and Eddie Larcom along with junior Joe Bucek. The trio has combined for 57 catches for 722 yards and seven touchdowns over the first four games of the season. Senior defensive lineman Anthony Mazzone and junior linebacker Spencer Underdown each have 31 tackles to lead the defense.
ARMY NOTES: Army extended its winning streak to 18 games with a 48-32 win over Mansfield on Friday. The Black Knights improved to 4-0, tied with Navy for first in the CSFL. Army racked up 265 yards on 57 attempts led by sophomore Marqus Burrell, who had 117 yards on 25 carries and a touchdown. Junior Jesse Shackelford had a career day, rushing for 76 yards on 15 carries and found the end zone twice. Senior J.J. Wartski was 24-for-40 for 262 yards and three scores. He has thrown at least three touchdowns and topped 200 yards passing in all four games so far. Wartski completed passes to eight different receivers led by junior Tucker Van Dyke, who hauled in six catches for 70 yards and two touchdowns. Junior Kevin O'Brien added five catches for 70 yards as well. Army's 13 seniors were recognized prior to kickoff. Army is now 6-0 all-time against Mansfield. Army moved past Navy into first place in the league in scoring offense averaging 38.8 points per game. The Black Knights are tops in the league in passing offense (271.2 yards/game) and total offense (431.5 yards/game). Army is also second in the CSFL in rushing defense and total defense. Wartski leads the league in yards (1,054), touchdowns (14) and completion percentage (61.6). Van Dyke is first in receptions (26), receiving yards (113.5/game) and touchdown catches (6). Senior Buddy Craft leads the league with three fumble recoveries and sophomore Sam O'Ferrall is tied for first with two interceptions. Next up for Army is Princeton. The Black Knights own a 55-3-2 all-time record against the Tigers.
-----------
Post (6) at Navy (41)
Jay'Len Mahan took the opening kickoff 92 yards to the house for the longest kickoff return TD in the CSFL this year, but that would be the extent of the good news for Post as Navy rolled to a 41-6 victory to improve to 4-0 and remain atop the league standings.
Eric Wellmon continued his monster season of carrying the load for the Midshipmen. He rushed for career-highs of 226 yards and four touchdowns on 28 carries for an incredible 8.1 yards per carry. James Lieto added nine carries for 97 yards as Navy racked up 325 rushing yards in the game. The Mids added 62 passing yards to finish the game with 387 total yards of offense, while holding Post to just 40 total yards after forcing the Eagles into negative rushing yards with -16 and 56 passing yards.
Without much luck on offense, Post was led by the defensive effort of Anthony Jamele in the game. He recorded 11 tackles and two sacks.
POST NOTES: Post opened its matchup against Navy strong with a 92-yard kickoff return by Jay'Len Mahan to put the Eagles ahead early. On the ensuing Navy possession Vincent Dellefave forced and recovered a fumble. After that is was all Navy as Post fell 41-6. Anthony Jamele was a bright spot on defense with 11 tackles and two sacks. Jamele is second in the CSFL with 9.0 tackles per game. The Eagles continue their road trip this Friday as they visit Penn for a 7 p.m. kickoff.
NAVY NOTES: Navy kept its 2014 record unblemished with a dominant 41-6 victory over Post University on Friday night. The Mids won the time of possession battle by over seven minutes at 33:32 to 26:28 and held the Eagles without a third-down conversion as they went 0 for 13. Eric Wellmon was the story for Navy offensively as he rushed for career-highs with 226 yards and four touchdowns on 28 carries. He increased his CSFL lead and now has more than 200 yards more than the second leading rusher in the league at 728 yards (182 yards per game). Wellmon's backfield mate James Lieto also set a career-high with 97 rushing yards. Defensively, Chris Mershon led a Navy squad that stopped Post behind the line of scrimmage on nine of its 55 plays. Mershon had a team-high two sacks to go along with his five tackles. Collin Ascherl caused chaos for the Eagles as well, as he forced two fumbles and made three tackles. Navy will head back out on the road for a Saturday morning matchup versus Cornell. Last season in Annapolis, the Mids defeated the Big Red, 28-7 on the strength of a strong rushing attack and a tenacious defensive line. The running back duo of Corey Garcia (181 yards) and Eric Wellmon (130 yards) led the offense, while Chris Mershon (3.5 sacks) and Jon Moyle (1.5 sacks) spearheaded the defensive effort. Navy's offense outgained Cornell, 428 to 226. The Mids' defense held the Big Red's ground attack to just 34 yards on 42 attempts.
-----------
Cornell (55) at Princeton (0)
Cornell scored 27 points in the first quarter and led 48-0 at halftime before calling off the dogs in a 55-0 victory on the road at Princeton.
The Big Red finished the game with a 333-152 advantage in total offense and forced five turnovers, including four interceptions. Cornell ran for 219 yards and threw for 114, while Princeton rushed for just seven yards and passed for 145.
Benjamin Herrera ran for 83 yards and two touchdowns on 11 carries to lead Cornell, which also got touchdown runs from Bengamin Pham, Jensen Cheong, Rob Pannullo and Kevin Nathanson. Pannullo was a perfect 5-for-5 in the passing game for 76 yards and one TD pass to Trevor Marrero.
Princeton was led by Chad Cowden, who completed 17 passes for 145 yards. He was picked off four times on 48 attempts. Ahmed Musse caught four passes for 60 yards and Tyler Kaye pulled down five passes for 43 yards.
The Cornell defense forced 12 tackles behind the line of scrimmage and 10 pass breakups to go along with the four interceptions and one fumble recovery.
CORNELL NOTES: Cornell set a program record with 48 first half points against Princeton on Friday. The Big Red offense broke out in a big way following middling performances in their two previous contests against Penn and Army. Cornell scored a touchdown on its first five drives, jumping out to a 34-0 lead just 17 minutes into the contest. Overall, the Big Red scored touchdowns on seven of its eight drives in the opening half. Quarterback Rob Pannullo had a nice bounce back game against the Tigers. He was precise with his passes, going 5-for-5 for 76-yards and a 14-yard scoring strike to Trevor Marrero. He added 29-yards on six carries with an additional score on the game's opening drive. Running back Benjamin Herrera continued to be the focal point of the offense. He posted 101 all-purpose yards – 83 on the ground – with two touchdowns. The defense also had a nice bounce back against the Tigers. The Big Red defense pitched a shutout for the first time since shutting out Princeton 44-0 in 2009. Cornell held the Tigers to just 152 total yards of offense – just seven yards on the ground – while the team forced five Tiger turnovers. The Big Red now turns its sights to Navy. Cornell will welcome the Midshipmen to Schoellkopf Field for Homecoming this weekend. The contest figures to be a struggle as Navy and Army are both tied at the top of the CSFL standings with undefeated 4-0 records. The Midshipmen are a juggernaut on both sides of the ball, ranking second in the league in scoring offense (37.8 ppg), while leading the league in scoring defense (9.8 ppg). The Midshipmen have had the Big Red's number in recent seasons. Cornell has not defeated Navy since a 16-10 victory during the Big Red's undefeated CSFL Championship season in 2006.
PRINCETON NOTES: The Tigers were shutout for the second time in three games this season as they continue to struggle to put points on the board. Princeton is being outscored 163-7 through three games and has rushed for -63 yards and thrown for 369 yards. Chad Cowden has completed 38-of-111 passes for 369 yards and one TD. Things don't get any easier for the Tigers this weekend, as they host defending champion and undefeated Army.
-----------
Penn (14) at Franklin Pierce (7)
In the only one-possession game of the week, Penn narrowly edged Franklin Pierce 14-7 in a low scoring affair Friday night in New Hampshire that required a goal line stand in the final minute.
Both teams accounted for 13 first downs in the game and finished with nearly even statistics in almost every category. Penn earned a 242-236 edge in total yards, a 126-120 edge in rushing yards and both teams passed for an equal 116 yards. The time of possession was almost dead even, with Franklin Pierce holding the ball for just 28 seconds more in the game. Both teams turned the ball over once on an interception.
Mike Beamish carried the load for Penn, literally. He rushed 31 times, more than half of the total 59 plays Penn's offense ran, for 163 yards and both Quaker touchdowns. Mike McCurdy was 8-of-16 for 116 yards with one interception.
Derek Reddy was the go-to guy for Franklin Pierce, serving as the starting quarterback and scoring the lone points for the Ravens on a 21-yard rush in the fourth quarter. He finished 7-of-24 for 92 yards and one interception. He also ran 12 times for 50 yards and the one score.
Stu Helgeson led the defensive effort for Penn with seven tackles, one interception and two pass breakups. James Willette led Franklin Pierce with nine tackles.
Franklin Pierce had a chance to tie the game, but a defensive stand on the two-yard line with 26 seconds to go preserved the win for Penn.
PENN NOTES: In a low scoring affair that saw both offenses match rushing and passing yards equally, the University of Pennsylvania sprint football team held on to defeat Franklin Pierce 14-7 on Friday evening, behind two rushing touchdowns from senior Mike Beamish. Penn (3-1) scored on short drives in the second and third quarter of the game, and was able to hold Franklin Pierce (1-3) on a defensive stand at the two-yard line with 26 seconds remaining to hold on for the victory. The Quakers saw most of their offensive production come from Beamish, who ran 31 times for 163 yards and the two scores. Defensively the Red and Blue's Stu Helgeson led the way, making seven tackles, while breaking up two passes and adding an interception. Sophomore Chris Colavita also had seven tackles for the Quakers, while senior safety Keith Braccia had six. Sophomore Patrick Boyle and freshman Hunter Heflin each recorded a sack. Penn returns home this week looking to keep momentum going when it hosts Post at Franklin Field.
FRANKLIN PIERCE NOTES: The Ravens struggled to get things going offensively in a 14-7 loss at home to Penn on Friday night. The Quakers struggled offensively as well, as neither team topped 250 yards of total offense and the two sides combined to punt 12 times and turn the ball over twice. Derek Reddy played as a man of many roles on Friday, as he served as starting quarterback, starting defensive back and the team's punter. A threat in multiple capacities, Reddy netted 50 yards on 12 carries, including a highlight-reel 21-yard touchdown rush in the fourth quarter, and added 92 yards passing. Reddy also uncorked eight punts against Penn for 209 yards (34.8 average), including a long of 44. Defensively, James Willette factored in on a game-best nine tackles (six solo), while Ben Whitney added seven tackles (six solo), including 3.5 for loss and 2.5 sacks. Franklin Pierce hits the road this week for a matchup at winless Mansfield. The Ravens earned a 27-24 overtime win at home over the Mountaineers last year and have split the series 1-1.