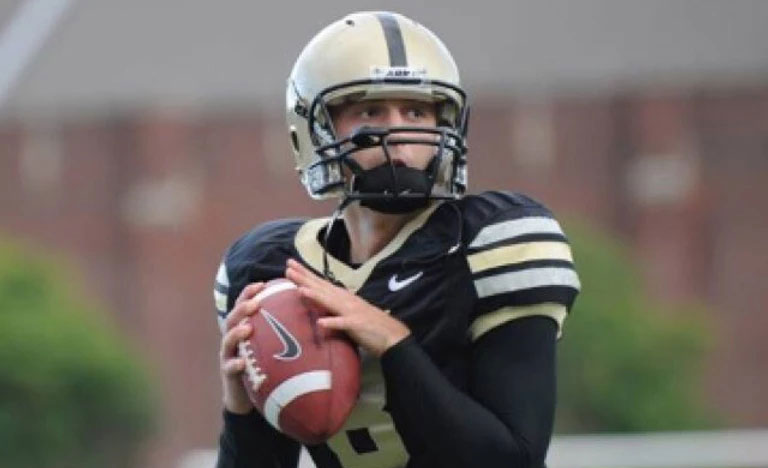 2014 Season: Week 3 Review
By: CSFL Staff | Collegiate Sprint Football League | October 4, 2014
CSFL Week 3 Review.
WEEK 3: PLAYERS OF THE WEEK
Offensive Player of the Week: J.J. Wartski, QB, Army (Orlando, Fla.)
Wartski had a career-night in leading a dominant Army attack to a 49-7 win over Cornell. The senior quarterback completed 19-of-25 pass attempts for 266 yards and a career-high five touchdowns. He connected with his favorite target Tucker Van Dyke on a season-long 64-yard TD pass and was named the Army Athletic Association Athlete of the Week for his performance.
Defensive Player of the Week: Brady Flies, DB, Navy (Seattle, Wash.)
Flies was instrumental in helping Navy improve to 3-0 with a hard-fought 21-19 win over previously unbeaten Penn last weekend. The senior defensive back made nine total tackles, including an impressive eight solo stops, and also recorded a career-high three sacks that resulted in a loss of 21 yards for the Penn offense.
Special Teams Player of the Week: Eddie Larcom, Mansfield, WR, (Canton, Pa.)
Larcom nearly lifted Mansfield to a win with his special teams heroics last weekend in a 21-18 loss at Post. He blocked two punts in the game, both at crucial times. His first block was picked up and returned for a touchdown by the week one special teams award winner, Kurt Logan, and his second block gave Mansfield the ball inside the redzone late in the game with a chance to win. He also caught three passes for 31 yards and a touchdown on offense.
WEEK 3 - REVIEW
The Collegiate Sprint Football League saw intense action in four games in week three, highlighted by two winning margins of three points or less and the service academy teams improving to 3-0 to hold steady atop the league standings.
-----------
Cornell (7) at Army (49)
This one was all Army after the Black Knights potent attack jumped out to a 42-0 lead at halftime, led by the combo of J.J. Wartski at quarterback and Tucker Van Dyke at wide receiver.
Army finished the game with a 515-192 advantage in total yardage. Wartski completed 19-of-25 passes for 266 yards and a career-high five touchdowns, including a 64-yarder. Van Dyke caught eight passes for a career-high 157 yards and three touchdowns. Not to be overshadowed by the passing game, Marqus Burrell ran for 104 yards and one touchdown on just 10 carries for an average of 10.4 yards per carry.
Cornell struggled to move the ball offensively, going just 12-of-42 for 133 yards with three interceptions in the passing game using two quarterbacks. Karriem Royster, who was 8-of-23 for 75 yards with one interception, led the ground game with six carries for 31 yards. Rob Pannullo was just 4-of-19 for 58 yards and two interceptions. The lone Cornell TD came from John Zelek on a one-yard run in the fourth quarter. Noah Shephard led the defense with 12 total tackles and 1.5 sacks.
CORNELL NOTES: Cornell struggled to get things going on offense against Army's vaunted defense. The Black Knights shut down the Cornell ground game, which ranked second in the conference coming into the contest averaging over 200-yards per game. Army held Cornell to just 59 net rushing yards. The Big Red turn to Princeton and will look to right the ship against the struggling Tigers. Princeton enters the game 0-2 and has been outscored 108-7 in two contests this season. Cornell has won 21 straight games against its fellow Ancient Eight school. Princeton has not knocked off the Big Red since a 12-7 win in the first of two matchups during the 1999 season. Over the last 21 games in the series, the Big Red have shutout the Tigers five times, while they have held the Tigers under 10 points 11 times. Cornell defeated Princeton 50-19 at Schoellkopf field last season. Benjamin Herrera rushed for 162 yards and two touchdowns as the Big Red piled up 290-yards on the ground. Brendan Miller connected on 14-of-20 passes for 148-yards and three additional scores through the air.
ARMY NOTES: Army's win was the 17th consecutive victory for the Black Knights. Burrell had a 61-yard touchdown run in the second quarter, his longest run of the season. Wartski also found Van Dyke on a 64-yard score in the second quarter, the longest play of the season for Army. The Black Knights scored 35 points in the second quarter and led 42-0 at the half. Junior Ryan Gallagher had a season-high nine tackles for Army. Three Black Knights recorded an interception versus Cornell. It was the fourth-straight win for Army over Cornell. Wartski has thrown at least three touchdowns in each of Army's first three games this season. He leads the league in touchdowns (11), passing yards (792) and completion percentage (69.2). Van Dyke has a CSFL-best 20 catches for 384 yards and four touchdowns on the season. Wartski earned Army Athletic Association Player of the Week honors following the win over Cornell. Army is outscoring its opponents 107-38 overall and 55-12 in the first half. The Black Knights have not allowed any first-half points since giving up 12 in the first half against Post in week one. Army will wrap up its three-game home schedule against Mansfield on Friday, which will serve as Senior Day.
-----------
Princeton (7) at Franklin Pierce (45)
Franklin Pierce outscored Princeton 28-0 in the second half to pull away for a 45-7 win last weekend, thanks in large part to running back Andrew Jean, who ran for a school record 298 yards and three touchdowns on 40 carries.
Franklin Pierce finished the game with a 434-182 advantage in total yardage and ran for 368 yards in the game. Michael Holdridge caught three passes for 53 yards and a touchdown and quarterback Jose Melo ran for three touchdowns on just five carries.
Princeton was led by Chad Cowden, who completed 14-of-39 passes for 184 yards, one touchdown and three interceptions. Chris McCord caught three passes for 67 yards and one TD and Nick Barnett ran for 28 yards on nine carries.
One of the highlights of the game came in the fourth quarter, when Taylor Miller returned an interception for a touchdown for Franklin Pierce. He will miss the rest of the season due to academic obligations, making Friday night's game his last collegiate game.
PRINCETON NOTES: Cowden has now completed 21 of 63 passes for 224 yards. McCord has been a bright spot in the offense with six catches for 86 yards and one TD. He has a season-long of 55 yards and is averaging 43.0 yards per game. Richard Freling leads the defense with 16 total tackles, including eight solo, and one fumble recovery. Princeton is 0-2 on the year and will look to get in the win column for the first time when it hosts Cornell this weekend.
FRANKLIN PIERCE NOTES: The Ravens got in the win column for the first time in 2014 on Friday night, as they enjoyed a 45-7 win over Princeton in Franklin Pierce's first-ever on-campus home game. Running back Andrew Jean stole the show, as he carried the ball 40 times and piled up a school-record 298 rushing yards to go with three touchdowns. Taylor Miller who will miss the rest of his senior season due to academic obligations, capped his collegiate career with a 15-yard interception return for a touchdown in the fourth quarter. Kicker Johnny Ciarcia was perfect on the night, as he hit on six PATs and added a 29-yard field goal in the second quarter. Franklin Pierce needed to complete only four passes in the win, but wideout Michael Holdridge caught three of them to total 53 yards and a touchdown. The Ravens remain home this week to host Penn Friday night. Franklin Pierce edged the Quakers, 33-27, in overtime a year ago in Philadelphia.
-----------
Mansfield (18) at Post (21)
Bernard Peterson made an interception in the end zone with less than a minute to play to save the game for hosting Post, which defeated Mansfield 21-18 last Saturday.
Post jumped out to a 14-0 lead before Mansfield got on the board with a punt return for a touchdown in the second quarter. Eddie Larcom blocked a punt and Kurt Logan returned it 35 yards for the score with 52 seconds left before halftime to make it a 14-6 post lead at halftime.
Larcom then caught a TD pass early in the second half to cut the deficit to 14-12, before Post pushed the lead back out to 21-12 midway through the third quarter on a four yard touchdown run from Dashawn Wingate, his second TD of the game.
Larcom blocked another punt in the fourth quarter to set Mansfield up with the ball inside the 20, but Peterson's interception ended the threat and sealed the win.
Post finished with a slim 248-204 advantage in total yardage thanks for 213 rushing yards. Three players ran for at least 31 yards in the game for the Eagles.
POST NOTES: For the second straight year a late interception sealed Post's victory over Mansfield. Ahead 21-18 with 35 seconds left, Bernard Peterson intercepted Mountaineer quarterback Mike Maniscalco in the end zone. Mansfield was setup in great field position to start the drive after blocking its second punt of the afternoon and taking over on the Post 19. The Eagles rushing attack led Post to the victory a 213-82 advantage in yards on the ground, led by Joe Lynch with 87 yards and a score. Dawson Lindeman led the Eagles defensively with five tackles and a sack. Post begins a three-game road trip on Friday night at Navy.
MANSFIELD NOTES: Trailing 21-18 with less than a minute remaining in the game, quarterback Mike Maniscalco's fourth down pass attempt to the endzone went through a receiver's hands and was picked off as Post held on for the win in a rain-soaked CSFL contest at LaMoy Field on Saturday. Kurt Logan returned a blocked punt for a score and caught a 20-yard touchdown pass in the game while Eddie Larcom blocked two punts and hauled in a 14-yard TD pass for the Mounties. Mansfield's defense forced four turnovers, two fumbles and two interceptions, but Post totaled 218 yards on the ground and punched in three rushing touchdowns in the win. Spencer Underdown had a game-high 10 tackles, including five solo, and Damarkus Jones totaled nine tackles with an interception to lead the MU defense. The constant rain throughout the game affected Mansfield's potent pass game with several of Maniscalco's 24 incompletions slipping through his receiver's hands. The Mountaineers are back on the road to face Army at West Point on Friday night. Mansfield is 0-5 all-time against the Black Knights including a 51-6 loss last season at Karl Van Norman Field.
-----------
Navy (21) at Penn (19)
Navy improved to 3-0 in the CSFL Game of the Week, a back and forth affair that both teams had chances to win Saturday at Franklin Field. The difference in the game ended up being a 14-10 scoring advantage for Navy in the third quarter.
Both teams managed 17 first downs in the game. Navy earned a 358-287 edge in total yardage with a balanced attack of 189 rushing yards and 169 passing yards. Penn managed 50 yards on the ground and 237 yards through the air.
Navy was led by Eric Wellmon with 191 yards and two touchdowns on 35 carries for his second big rushing week in a row. Joe Hampton was 12-of-21 for 169 yards, one touchdown and one interception in the passing game. Matthew Hite caught the one TD, a 67-yarder.
Penn was led by Mike Beamish with 75 yards on 19 carries and Mike McCurdy, who completed 18-of-32 passes for 237 yards and two touchdowns with no interceptions. Mario Del Cueto caught five passes for 108 yards and two touchdowns.
NAVY NOTES: Coming from behind for the second straight week, the Mids overcame a brief 17-14 Quaker lead in the third quarter with a 67-yard touchdown pass from Joe Hampton to Matthew Hite to give the visitors a lead that they would hold onto over the final 16:06 of action at Franklin Field. Navy outgained Penn, 358 to 287 with a 189 to 50 advantage in rushing yards. Junior RB Eric Wellmon continued to pace the Mids' offense as he finished the game with 191 rushing yards and two touchdowns. Wellmon has now rushed for 502 yards and eight touchdowns through three games of competition. Defensively, senior DB Brady Flies led a swarming Navy attack that recorded seven sacks. In addition to his three sacks, Flies also made a career-high nine tackles from his safety position.
PENN NOTES: After a defensive stop with 46 seconds remaining in the fourth quarter, the University of Pennsylvania sprint football team needed only a field goal to defeat Navy, but the Quakers drive stalled on their own half of the field, and the Midshipmen escaped with a 21-19 victory Saturday evening at Franklin Field. The Penn defense held Navy's high-powered offense in check for the majority of the game, and made the Midshipmen look uncomfortable at times. The Quakers managed an interception and a safety, but allowed two big plays that would become the difference makers. The Quakers got two touchdown receptions from sophomore Mario del Cueto, including a 54-yard catch and run. Sophomore quarterback Mike McCurdy completed 18 passes for 237 yards and the two touchdowns to del Cueto. The Quakers totaled 287 yards of offense, 237 passing, and just 50 on the ground. Junior Stu Helgeson led Penn with nine tackles, while Ed Cai finished with eight tackles, a sack and a pass breakup. Quinn Karam had six tackles and the interception.