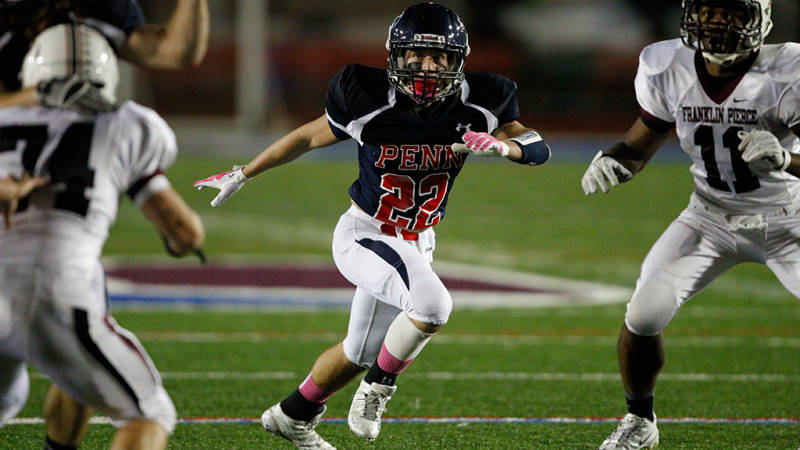 2014 Season: Week 2 Review
By: CSFL Staff | Collegiate Sprint Football League | September 27, 2014
CSFL Week 2 Review.
WEEK - 2 PLAYERS OF THE WEEK
Offensive Player of the Week: Eric Wellmon, RB, Navy (Wallkill, N.Y.)
Wellmon had a monster third quarter to lead Navy to a 26-14 comeback win over Mansfield on the road. After rushing for just 14 yards in the first half, he ran for 151 yards and three touchdowns in the third quarter to swing the game back into the Mids' favor. Wellmon finished the game with a career-high 216 yards on the ground and matched his career-high with three touchdowns.
Defensive Player of the Week: Robert Diorio, DB, Penn (Medford, N.J.)
Diorio provided the defensive lift the Penn Quakers needed in a 36-19 win over Cornell last weekend when he scooped up a fumble and returned in 38 yards for a touchdown in the second quarter. He also recorded an interception that set up a touchdown and finished the game with seven total tackles, five solo stops and one sack.
Special Teams Player of the Week: Warren Kay, Army, PK (Goshen, Ind.)
Kay helped lead Army to a 27-13 win over Franklin Pierce with a perfect effort in the kicking game. He was 2-for-2 in field goal attempts with a 29-yarder and a career-high 42-yard kick, was a perfect 3-for-3 on extra points and averaged 57.8 yards per kickoff.
WEEK 2 - REVIEW
The Collegiate Sprint Football League saw competitive action in three games last weekend after the Post at Princeton game, originally scheduled for Friday night, was postponed until Nov. 7. Army, Navy and Penn all emerged victorious to remain unbeaten on the year, but none looked dominant in their wins. The largest margin of victory in week two belonged to Penn, with a 36-19 win over Cornell. Army and Navy both needed comebacks in the second half to secure wins. The Black Knights defeated Franklin Pierce 27-13 and Navy downed Mansfield 26-14.
-----------
Post at Princeton: Rescheduled Until Nov. 7 at Princeton
Post and Princeton are scheduled to play their conference game Nov. 7 in Princeton after the game was postponed in the middle of last week. Post will continue its season this Saturday when it hosts Mansfield, while Princeton will continue their season with a road game at Franklin Pierce.
PRINCETON NOTES: Chad Cowden attempted 24 passes and completed seven against a stifling Navy defense in the season-opener. Chris McCord, one of three senior captains, led the receivers with three catches for 19 yards against Navy. Princeton was defeated 63-0 against Navy in week one in a game that was called at halftime.
POST NOTES: Post running back Dashawn Wingate took the first play from scrimmage 79 yards for a touchdown in their opener, a 31-18 loss to Army. On special teams, Jay'Len Mahan had two long punt returns of 40 and 46 yards in that game. Mahan also caught a 39-yard touchdown late to cut the deficit to 24-18. Defensively, Anthony Jamele led Post with a week one CSFL-high 11 tackles and a sack. The Eagles will host Mansfield Saturday in what should be a good matchup. The two teams have split the series 2-2 with Mansfield winning in 2010 and 2011 and Post winning each of the last two years.
-----------
Navy (26) at Mansfield (14)
For the second week in a row it looked like Mansfield was poised to earn a victory with a halftime lead, but this time it was Navy's turn to mount a second half rally. The Mids trailed 14-6 at the break but scored 20 points in the third quarter to pull away for a 26-14 win.
Eric Wellmon ran for 151 yards and three touchdowns in the third quarter alone and finished the game with a career-high 216 rushing yards for Navy. Colby Lederer added 60 yards on the ground for the Mids. Joe Hampton completed 12-of-25 passes for 109 yards and one TD. Colin Butler caught five passes for 49 yards and one score.
Mansfield was led by Mike Maniscalco, who completed 23-of-45 passes for 179 yards and two touchdowns. Kurt Logan caught eight passes for 87 yards and one TD.
Navy outgained Mansfield 368-178 and held the Mountaineers to negative rushing yards (-3).
NAVY NOTES: Navy's defense showed strong in the final two quarters of play as it shut out Mansfield and held the Mountaineers to 73 total yards. Overall, Navy outgained Mansfield, 368 to 176 and held a 259 to -3 advantage in rushing yards. This was the second straight week that the Mids had held an opponent to a negative rushing total. Freshman WR Colin Butler made a team-high five catches for 49 yards and scored his first career touchdown. Defensively, Keegan Kush led the team with eight tackles and Chris Mershon had two sacks in his first appearance of the season. In Week 3, the Mids will be on the road again as they travel to Penn on Saturday night in a battle of undefeated squads. Last November in Annapolis, Navy jumped out to a 34-0 lead before finally defeating Penn by a 34-14 margin. The Mids outgained the Quakers 451 to 227 and held the visitors to only 51 yards on 35 carries. Led by Eric Wellmon's 191 rushing yards, Navy's stable of running backs totaled 271 yards on the ground.
MANSFIELD NOTES: Mansfield played an inspired game despite dropping a 26-14 decision to Navy before more than 3,200 Homecoming fans Saturday. In their first two home games of the season, the Mountaineers have drawn more than 7,300 fans to Karl Van Norman Field. The Mountaineers defense, led by linemen Tim Carr, Anthony Mazzone and Evan Ruggles, who combined for 24 tackles, led a bend-but-don't-break effort that stopped the Midshipmen on all five of their fourth-down conversion attempts. The Mountaineers will hit the road for the first time this season when they travel to Post University Saturday. Mansfield has led in each of its first two games at halftime only to have undefeated Penn and Navy both rally in the second half. Senior quarterback Mike Maniscalco has been exemplary in the first two games of the season connecting on 37-of-69 attempts for 422 yards and four touchdowns. Junior Joe Bucek has been the top target for Maniscalco catching 15 passes over the first two games for 178 yards. Kurt Logan and Jeremy Estremera have combined for 15 receptions for 153 yards and two scores. Last season, Post held on held on for a 37-33 win at Van Norman Field withstanding a furious Mountaineer comeback in the game's final 16 minutes. Post led 35-7 going into the fourth quarterback before Mansfield got back into the game with three long touchdown passes closing the gap to 35-33 on a 16-yard TD catch by Estremera with 10 seconds remaining in the game. Post had the past week off after dropping its season-opener to Army. The series is tied at 2-2 with Mansfield posting victories in 2010 and 2011 with Post picking up wins in 2012 and 2013.
-----------
Franklin Pierce (13) at Army (27)
Army led 10-0 at halftime but Franklin Pierce stormed back into the game to take a 13-10 lead after three quarters in West Point. The Black Knights rallied with 17 points in the fourth quarter to earn the 27-13 win.
Army finished the game with a 306-153 advantage in total yardage and got all of its offensive production through the air after the Ravens' defense held the hosts to negative 16 rushing yards. Quarterback J.J. Wartski went off to the tune of 31-of-55 for 322 yards and three touchdowns. Zachary Woods caught eight passes for 93 yards and two touchdowns and Tucker Van Dyke pulled in seven passes for 115 yards.
Franklin Pierce was led by quarterback Jose Melo and running back Demitri Moreno. Melo completed five of 15 passes for 57 yards and ran the ball 24 times for 49 yards and one touchdown. Moreno ran the ball 13 times for 37 yards and one TD.
Perhaps the biggest deciding factor in the game was the defensive line for Army, which recorded 11 sacks and 17.0 tackles for loss. Phillip Choi and Tyler Peterson each recorded three sacks and 11 total tackles, while all 11 of Choi's stops were solo.
FRANKLIN PIERCE NOTES: The Ravens were in West Point on Friday night to pay a visit to Army, and suffered a 27-13 defeat. The defense forced two interceptions on the banks of the Hudson, which allowed Franklin Pierce to be competitive, despite struggling to find offense for parts of the evening. Both Franklin Pierce touchdowns came in the third quarter, as the Ravens rallied from a 10-0 halftime deficit to a 13-10 lead after three, on the strength of rushing TDs from Demitri Moreno and Jose Melo. Josh Tilton piled up four tackles for loss, including three sacks. The Ravens' offensive line continued to struggle, as it surrendered 11 sacks and has allowed 19 sacks through the season's first two weeks. The defense was the story of the day for Franklin Pierce, which held Army to -16 net rushing yards on Friday. This week, the Ravens play their first-ever on-campus home game, as they host Princeton at 7 p.m. Friday night under the lights at Sodexo Field in Rindge.
ARMY NOTES: Army improved to 2-0 with a 27-13 win over Franklin Pierce in its home opener. It was the 16th consecutive win for the Black Knights. Army is now 2-0 all-time against Franklin Pierce. The Black Knights won their third-straight home opener. Senior quarterback J.J. Wartski was 31-of-53 for a career-high 322 yards and three touchdowns. It was the fifth time in the last two seasons that Wartski has thrown three touchdowns in a game. Two of those touchdown passes went to senior Zachary Woods, who made eight receptions for 93 yards. Senior Tyler Peterson and junior Philip Choi each recorded 11 tackles and three sacks apiece on defense. Senior Buddy Craft recovered his third fumble of the season. Junior kicker Warren Kay set a new career long by making a 42-yard field goal in the fourth quarter. Army will continue its three-game homestand with a matchup against Cornell on Friday night. The theme for the game will be "Blackout Cornell" as Army will wear all black.
-----------
Cornell (19) at Penn (36)
Cornell scored less than five minutes into the game and led 8-6 after the first quarter before Penn capitalized with a defensive touchdown late in the half to swing the momentum back the Quakers' way in a 36-19 win.
Leading just 13-11 with under five minutes to play in the first half, Rob Diorio returned a fumble 38 yards for a touchdown to push the Penn lead out to 19-11 before halftime. The Quakers would add field goal in the third quarter and two Mike Beamish TD runs in the fourth to put the game away.
Penn finished the game with a 394-342 edge in total yardage, rushing for 181 yards and throwing for 213. Cornell ran it for 238 yards and threw for 104 yards.
Beamish had another big game for Penn, rushing 26 times for 149 yards and two touchdowns. Mike McCurdy completed 12-of-19 passes for 213 yards and one TD.
Cornell QB Rob Pannullo completed 12-of-25 passes for 104 yards and one TD and ran 14 times for 46 yards. Benjamin Herrera ran the ball 24 times for 133 yards and one TD.
CORNELL NOTES: The Big Red got off to a quick start against the Quakers, driving 59-yards on the opening drive for the touchdown. The team was only able to mount two more scoring drives the rest of the game. Turnovers were a killer for the Big Red in their first road contest. Quarterback Rob Pannullo struggled in his second game as the primary signal caller. He completed 12-of-25 passes for 104 yards, with one touchdown and two interceptions. He also fumbled a ball, which Penn ran back for a 38-yard score to extend the Quakers lead to 19-11 in the second quarter. Cornell forced four fumbles against Penn, but could only recover one. The Big Red next travels to Army Friday night. Since Bart Guccia took over primary gameday responsibilities, Cornell is 3-4 against Army. The Big Red have not beat the Black Knights since a 20-10 win at West Point in 2010.
PENN NOTES: The University of Pennsylvania won its eighth consecutive home opener with a 36-19 victory over Cornell on Saturday, blowing open a two-point game with 16 consecutive points. The win improves the Quakers to 2-0 in 2014, marking the first 2-0 start to a season since the 2010 campaign. The offensive numbers were similar for both sides, with Penn gaining 394 total yards of offense to 342 for the Big Red. The difference, though, was big plays. Penn's defense picked off Cornell quarterback Rob Pannullo twice and added a fumble recovery for a touchdown to stymie Cornell's fast-paced attack. Mike Beamish was a workhorse for the Quakers in the backfield, carrying the ball 26 times for 149 yards and two touchdowns. Beamish moved into third all-time in rushing yards at Penn and now has 2,235 yards in his career. Defensively, Chris Colavita led all players with 13 total tackles, including a game-high 10 solo stops. It was Robert Diorio, however, who had the biggest impact defensively. Five of his seven tackles were solo stops, and he added an interception and a 10-yard sack to his fumble return for a touchdown. Jose Nino Domond deflected two balls at the line of scrimmage – the second leading to Diorio's interception. Penn returns home to host Navy in week four in a battle of two unbeaten squads.