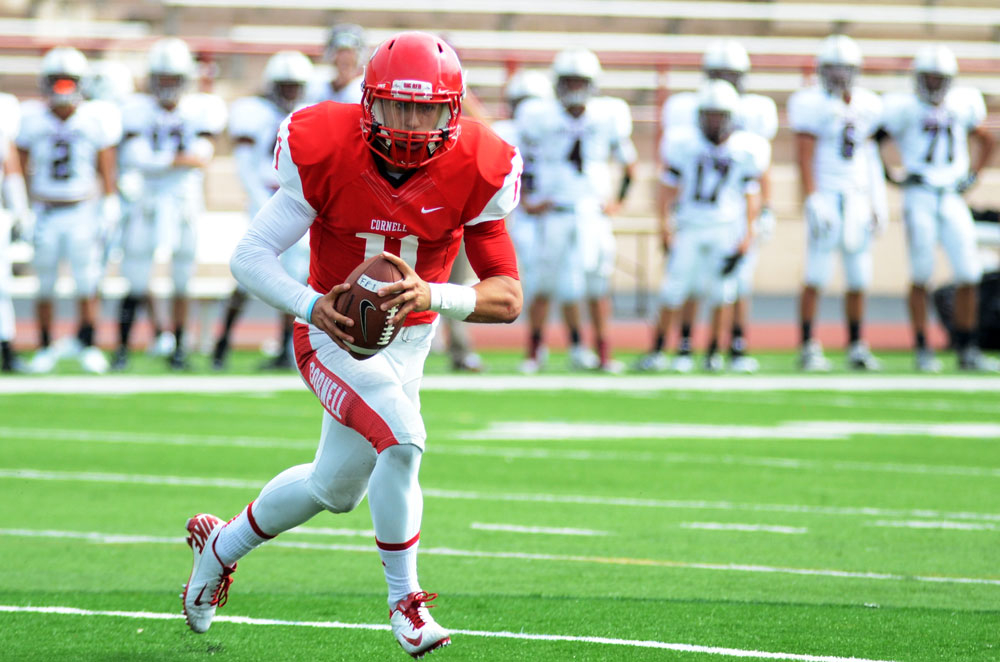 2014 Season: Week 1 Review
By: CSFL Staff | Collegiate Sprint Football League | September 20, 2014
CSFL Week 1 Review.
WEEK - 1 PLAYERS OF THE WEEK
OFFENSIVE PLAYER OF THE WEEK: ROB PANNULLO, QB, CORNELL (North Caldwell, N.J.)
Pannullo led the Cornell offense to a 28-7 win over Franklin Pierce by having a hand in all four of his team's touchdowns. He was the leading rusher on the team with 14 carries for 83 yards and one TD and also completed 20-of-31 passes for 128 yards and three touchdowns. He finished his first game as the primary signal caller for the Big Red with 211 all-purpose yards.
DEFENSIVE PLAYER OF THE WEEK: BUDDY CRAFT, LB, ARMY (Matthews, N.C.)
Craft helped key the Black Knight's defensive effort in a 31-18 second half comeback win on the road at Post. He recorded seven tackles, including six solo stops, one sack, one forced fumble and two fumble recoveries in the game.
SPECIAL TEAMS PLAYER OF THE WEEK: KURT LOGAN, KR, MANSFIELD (Chalfont, Pa.)
Logan opened the season with a big bang in a televised game, taking the opening kickoff of the season 84 yards for a touchdown just 13 seconds into the Mansfield-Penn game. The return was the first for a touchdown in Mansfield sprint football history and the only kick return touchdown in the CSFL in week one.
WEEK 1 - REVIEW
The Collegiate Sprint Football League opened the 2014 season with a full slate of four games last weekend, including a televised game on ESPN3 and two dramatic second half comebacks. Here's a look a last week's games and the week one Players of the Week.
-----------
Princeton (0) at Navy (63)
The CSFL season kicked off Friday night with a dominant performance from Navy, which handed Princeton a 63-0 shutout in a game that was called at halftime. The Midshipmen put up 34 points in the first quarter and cruised to the win.
Navy finished the game with 288 total yards, including 204 yards on the ground and 84 passing yards. Princeton finished with -28 total yards after throwing for 40 yards, but rushing for a net of -68 yards.
Eric Wellmon led Navy with 87 yards and three touchdowns on the ground on just eight carries. Colby Lederer added five carries for 50 yards and two scores and Joe Hampton completed all four of his passes for 84 yards and three touchdowns. The Navy defense secured three interceptions and one fumble.
Chad Cowden completed seven passes for 40 yards to lead Princeton. Three of those passes went to Chris McCord, who finished with 19 receiving yards.
PRINCETON NOTES: Cowden attempted 24 passes and completed seven against a stifling Navy defense. McCord, one of three senior captains, led the receivers with three catches for 19 yards. Princeton hosts Post in its home opener this Friday, Sept. 26 at 7 p.m.
NAVY NOTES: The Mids scored touchdowns on all nine of their possessions in the first half and never started a drive deeper than the 49-yard line of the Tigers. Led by Wellmon's team-high three touchdowns, six different Navy players scored on Friday. Hampton posted a perfect passing line of 4-for-4 with 84 yards and three touchdowns through the air. Defensively, the Mids forced four turnovers (three interceptions and a fumble) and held the Tigers to -28 yards of offensive output, the lowest in program history. The -68 rushing yards allowed was also a program record for Navy's defense. In week two, the Mids will travel to Mansfield and take on a Mountaineer squad that they defeated 41-0 in Annapolis last September. Navy outgained Mansfield 372 to 46 and scored at least one touchdown in every quarter on its way to victory. The Mids used six running backs to register 310 yards and five touchdowns on the ground.
-----------
Army (31) at Post (18)
It looked like the first upset of the 2014 season could happen in week one after Post jumped out to a 12-3 halftime lead over reigning champion Army, which hasn't lost in the last two years. The Black Knights regrouped with 21 points in the third quarter, however, and went on to win 31-18.
Army finished the game with a 378-259 advantage in total yardage and with a balanced attack of 174 yards on the ground and 204 passing yards. Post ran for 120 yards and threw for 139 yards. The two teams combined for five lost fumbles, with Post losing three and Army losing two.
Marqus Burrell led the Army offense with a CSFL-high 128 yards on the ground on a career-high 31 carries. He also scored Army's lone rushing TD of the game. J.J. Wartski completed 19-of-33 passes for 204 yards and three touchdowns. His favorite target was Tucker Van Dyke, who caught five passes for 112 yards and one TD. Zachary Woods also caught five passes for 42 yards and a score.
Post was led by Dashawn Wingate with five carries for 73 yards and a touchdown. He rushed 79 yards for a TD on the first play from scrimmage and was held to -6 yards on four more carries. Greg Volpe completed nine of 22 passes for 139 yards and two touchdowns.
ARMY NOTES: Army extends its winning streak to 15 games (dating back to 2012). Army remains a perfect 4-0 against Post. The Black Knights won their third-straight season opener. Army outscored Post 28-6 in the second half after trailing 12-3 at the half. Franklin Pierce will make its first visit to West Point on Friday. Army won 41-12 at FPU in the teams' first-ever meeting last season.
POST NOTES: Post got off to great start to the game as running back Dashawn Wingate took the first play from scrimmage 79 yards for a touchdown. On special teams, Jay'Len Mahan had two long punt returns of 40 and 46 yards. Mahan also caught a 39-yard touchdown late to cut the deficit to 24-18. Defensively, Anthony Jamele led Post with a CSFL-high 11 tackles and a sack. The Eagles look to get back on track Friday night as they visit Princeton for a 7 p.m. kickoff.
-----------
Franklin Pierce (7) at Cornell (28)
Rob Pannullo had a hand in all four touchdowns to lead the hosting Big Red to a 28-7 win over Franklin Pierce in the season opener for both teams. The win avenged a loss to the Ravens in the 2013 Allegiance Bowl.
Cornell ran for 193 yards and finished the game with an advantage of 321-186 in total yardage after also throwing for 128 yards. Franklin Pierce tallied 151 passing yards and just 35 yards on the ground.
Pannullo ran the ball 14 times of 83 yards and one touchdown and also completed 20-of-31 passes for 128 yards and three touchdowns on the way to being named the CSFL Offensive Player of the Week. Benjamin Herrera added 10 carries for 64 yards and also caught seven passes for 51 yards and a touchdown. The Big Red defense racked up eight sacks for a loss of 47 yards in the game.
Jose Melo led Franklin Pierce, completing 13-of-27 passes for 151 yards and a touchdown. Andrew Jean caught four passes for 64 yards and the lone TD of the game.
FRANKLIN PIERCE NOTES: Jose Melo went 13-for-27 for 151 yards and a touchdown in his collegiate debut, but he was also intercepted twice. The one touchdown was a 27-yard strike to Andrew Jean to cap a six-play, 45-yard scoring drive in the first quarter. The TD was the longest of four catches on the day for Jean, who finished with 64 receiving yards. Demitri Moreno was the team's leading rusher, with 16 carries for 65 yards. The Ravens were hampered by eight sacks, which led to just 35 net rushing yards on Saturday in Ithaca, and also turned the ball over three times. This week, the Ravens travel to West Point on Friday night to take on Army, which scored a 41-12 win over Franklin Pierce in Ashburnham, Mass. a year ago. Army is one of two CSFL teams -- the other being Navy -- the Ravens have yet to defeat over their first two seasons.
CORNELL NOTES: Cornell travels to Penn this weekend. Penn has given the Big Red trouble over recent seasons. The Big Red is 1-4 against Penn over the last five seasons. The lone victory in that stretch came in 2012, as the Big Red knocked off the Quakers 42-34 in six overtimes in the season opener. The numerous overtimes, combined with a weather delay, made this the longest sprint football game in the 75-year history of the program. Pannullo brings a dual-threat attack to the Big Red's offensive scheme this season. He led the team in rushing; averaging nearly six-yards per attempt, while adding a touchdown. He also showed an accurate touch when airing it out, completing nearly two-thirds of his attempted passes for 128-yards and three additional scores. Defense was the key in the second half for the Big Red against Franklin Pierce. Cornell allowed the Ravens only 51-yards of offense after halftime, forcing two turnovers and five three-and-outs. Overall, the defense created three turnovers and only allowed 186-yards of total offense.
-----------
Penn (14) at Mansfield (13)
Mansfield took the opening kickoff to the house to jump out to a 7-0 lead just 13 seconds into the game and led by a 13-0 score nearly midway through the fourth quarter, but Penn rallied with two touchdowns in the final eight minutes to steal a 14-13 win away from the Mountaineers on "Light Up Mansfield Again" night in a game that was streamed on ESPN3.
Kurt Logan took the opening kickoff 84 yards for the first return TD in Mountie program history, but the star of the night ended up being Penn's Mike Beamish, who ran for 125 yards and two touchdowns on 24 carries.
Mike McCurdy completed 20-of-33 passes for 190 yards and two interceptions for Penn. Henry Mason caught four passes for 71 yards and Brendan Dale caught six passes for 40 yards.
Mansfield was led by Mike Maniscalco, who completed 14-of-24 passes for 243 yards. He was sacked eight times, however. Joe Bucek caught six passes for a game-high and MU sprint football record 117 yards and Trelijah Miller ran for 84 yards and a touchdown on 22 carries.
PENN NOTES: The University of Pennsylvania sprint football team scored 14 unanswered points in the fourth quarter to defeat Mansfield, 14-13, in week one. With the game being televised on ESPN3.com, Penn (1-0) put together drives of 97 yards and 73 yards in the fourth quarter, both capped off with Mike Beamish touchdown runs, the last coming with just 1:42 remaining in the game. The senior captain Beamish rushed 24 times for 125 yards, pushing him to fifth all-time in rushing in Quakers history. Despite the 13-point deficit and three turnovers, Penn stayed resilient and was able to keep close to the Mountaineers (0-1) thanks to a defense led by sophomore Robert Diorio, freshman Quinn Karam, and sophomore Chris Colavita – all collecting eight tackles. The Red and Blue also forced a turnover with junior Ed Cai hauling in an interception off a deflected pass. Penn returns home in week two to host Cornell.
MANSFIELD NOTES: Mansfield was impressive in its season opener under the lights Saturday, totaling 300 yards of offense, but Penn's late rally was enough to spoil the Mountaineers night in a 14-13 loss at Karl Van Norman Field. Senior quarterback Mike Maniscalco connected on 20-of-33 passes for 243 yards in the game while finding favorite target Joe Bucek six times for a school record 117 receiving yards. Sophomore running back Trelijah Miller rushed 22 times for 84 yards and a touchdown and caught two passes for 36 yards before exiting the game late in the third quarter with an injury. Anthony Mazzone led the Mountaineer defense with a game-high nine tackles including five solo. Kyle Post and Spencer Underdown came up with interceptions in the game. Mansfield welcomes Navy to Van Norman Field on Saturday for Homecoming. The last time Navy visited Van Norman Field in 2011, Mansfield nearly pulled off one of the biggest upsets in CSFL history, leading 19-10 before the Midshipmen scored 20 fourth quarter points to win the game.