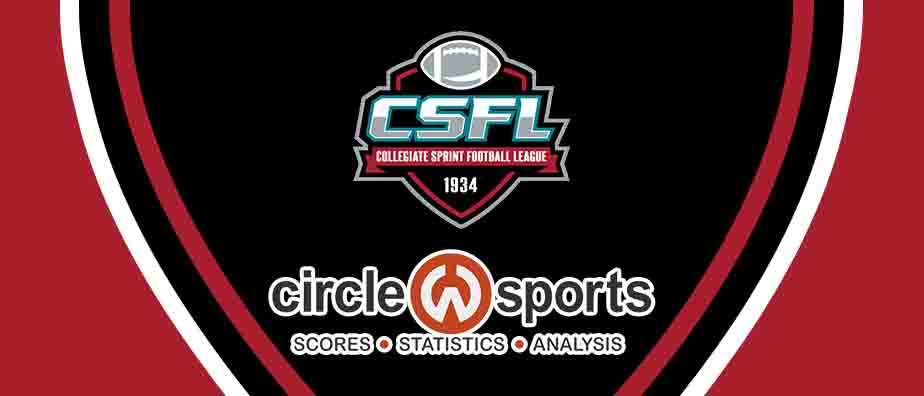 2014 CSFL Season Preview
By: CSFL Staff | Collegiate Sprint Football League | September 15, 2014
Defending Champion Army travels to Post and Mansfield host Penn on ESPN3 in Week 1 Highlights.
The Collegiate Sprint Football League (CSFL) will kick off the 2014 season this weekend with a four-game schedule highlighted by defending champion Army traveling to Post in a matchup between last year's top two quarterbacks, while Mansfield hosts Penn under the lights Saturday evening in a televised game that will be streamed on ESPN3.
In other opening week action, Princeton travels to Navy and Cornell hosts Franklin Pierce.
Here is a look at this weekend's matchups:
Princeton at Navy – Friday, Sept. 19 – 7 p.m.
Last season: Princeton (0-7, 8th) , Navy (6-1, 2nd)
Last Year's Score: DNP
Navy had the most effective running game in the CSFL last season pounding out 1,311 yards on the ground and scoring 15 touchdowns. The Midshipmen were however last in the league in passing, averaging 110.3 yards per game. Navy returns both of its top running backs in Corey Garcia and Eric Wellmon. Together, the pair combined for more than 900 rushing yards and nine touchdowns. Navy also returns starting quarterback William Hampton, who passed for 624 yards and eight TD's on the season. The Midshipmen had the second stingiest defense in the CSFL in 2013 and that trend is expected to continue behind senior defensive lineman Chris Mershon, who had 35 tackles and 8.5 sacks last season. He led the CSFL in tackles for a loss. Navy also returns standout defenders Temple Sloan and Jon Moyle.Princeton is looking to turn things around under the direction of first-year head coach Sean Morey. The former NFL standout will try to build a program behind seniors Bob Dougherty, Kyle Douglar and Chris McCord, all of whom earned first team All-CSFL honors last season. The Tigers have an effective passing game behind quarterback Chad Cowden who was fourth in the CSFL last season with 1,016 passing yards. McCord had 35 catches for more than 500 yards in 2013. Kyle Douglas will anchor the defense.
Army at Post – Saturday, Sept. 20 - Noon
Last season: Army (7-0, 1st), Post (4-3, 4th)
Last Year's Score: Army 38, Post 6
Army posted a perfect 7-0 season last year in winning the CSFL crown for the second straight year. The Black Knights haven't lost a game since the 2011 season and return much of their firepower from a team that was second in the CSFL in total offense (387.6 ypg) and first in total defense (186.00 ypg) in 2013. Army returns senior quarterback J.J. Wartski, who ranked second in the league last season connecting on 55.7% of his passes for 1,469 yards. He threw 13 touchdowns while being intercepted just three times. Wartski topped the CSFL in completions (117) and passes (210). Army throws to just about anybody of the field including junior Tucker Van Dyle, who ranked among the CSFL leaders with 26 catches for 380 yards and three touchdowns. Army lost a lot from a defense that allowed an average of just 6.1 points per game, but the Black Knights do return a number of outstanding All-CSFL picks in senior James Craft, who recorded 31 tackles while ranking among the league sack leaders and junior Ryan Gallagher, who had 29 stops. Junior kicker Warren Kay hit seven field goals last season.
Post was third in the CSFL last season in total offense, averaging 376.1 yards per game and also third in total defense giving up 289.3 yards per contest.
Post will depend on junior quarterback Greg Volpe to again spearhead the offense. Last season Volpe was the top-rated starting quarterback in the league, completing 58% of his passes for 1,248 yards and 12 touchdowns in just five games. He was intercepted just four times. Wideout Jay'Len Mahan is a big-play receiver who was third in the league last year racking up 433 receiving yards on 20 catches. The running game will be unknown without the services of last year's CSFL rushing leader James Harrington. Junior defensive lineman Anthony Jamele will be one of the defensive leaders after racking up 47 tackles and a remarkable 9.5 sacks – second best in the league. Chris Leggio returns at linebacker after an outstanding freshman season where he ranked in the top 20 of the league in tackles with 39.
Franklin Pierce at Cornell – Saturday, Sept. 20 - Noon
Last season: Cornell (2-5, 6th), Franklin Pierce (5-2, 3rd)
Last Year's Score: Franklin Pierce 13, Cornell 6
Cornell celebrates its 75th season when the Big Red host Franklin Pierce. Last year's contest, which served as the annual Allegiance Bowl, was fiercely fought and evened the series at 1-1. Cornell will be replacing three-year starter Brandan Miller at quarterback with either sophomore Rob Pannullo or freshman Karriem Royster. Pannullo played wide receiver and at QB as a freshman last year. Junior Benjamin Herrera is the top returner at running back after ranking seventh in the CSFL in rushing with 322 yards and a 5.4 yards per carry average. Cornell returns a solid core on defense, including six All-CSFL selections, led by first team defensive back senior Chris Sitko, along with senior defensive lineman Eric Stazi and sophomore defensive back Ryan Jackson.
Franklin Pierce was the surprise of the league last season, going 5-2 and finishing third in the standings. Despite the fact the Ravens return neither their leading passer, their leading rusher, nor their leading receiver from a year ago, the team projects to have more depth in 2014. On the defensive side of the ball, the core of the team returns, as six of the team's seven leading tacklers will don the crimson and grey again in 2014. Junior linebacker James Willette figured in on a team-best 52 tackles last fall, including 7.5 for a loss, while junior defensive lineman Nick Trochalakis led the team with 9.5 tackles for loss and 5.5 sacks. Franklin Pierce is looking forward to Oct. 3, as the Ravens will make their on campus debut against Princeton after playing their home games off campus the last two years.
Penn at Mansfield (ESPN3) - Saturday, Sept. 20 – 7:35 p.m.
Last season: Mansfield (1-6, 7th), Penn (3-4, 5th)
Last Year's Score: Penn 42, Mansfield 14
Penn returns many of its big-play guys from an offense that topped the CSFL averaging 390.4 yards per game last year. That offense if fueled by a passing game that averaged a league-best 250.3 yards per outing. Mike McCurdy returns at quarterback after a remarkable freshman season that saw him complete 55% of his passes for 1,403 yards and 14 touchdowns while being intercepted just four times. Senior Mike Beamish has been one of the premier running backs in the league for each of his first three seasons. The senior ran for 574 yards averaging 4.9 yards per carry and was also the league's top punter. The Quakers will have to replace their two top receivers, but have a number of options including Beamish and Jack Epstein. Junior Stu Helgeson tied for the most tackles in the league with 62 last season and will be joined by sophomore Robert Diorio, who recorded 47 stops.
Mansfield lost three of its last four games on the final play of the game last season and hopes to turn that around in 2014. The Mountaineers will start veteran senior Mike Maniscalco at quarterback. A part-time starter last year, Maniscalco completed 59% of his passes for 513-yards and five touchdowns. He also rushed for 124 yards averaging 3.8 yards per carry. Senior Jeremy Estremera ranked eighth in the CSFL in rushing last year but will move out to receiver this season to make way for speedster Treliah Miller. Mansfield returns much of its receiving corps from last season including All-CSFL selection Joe Bucek who a ranked among the league leaders with 24 catches for 322 yards. Sophomore Kurt Logan also returns after pulling down 15 passes for 143 yards last year. Mansfield will have to rebuild one of last season's best offensive lines after losing two All-CSFL selections to graduation. The heart of the defense lies in the defensive line with the return of Evan Ruggles, who was credited with 53 tackles and a team-best 3.5 sacks and senior Anthony Mazzone, who had 45 stops and three sacks. The Mountaineers return six starters on defense.